Chris and Linda O'Neill and their children Caitlin, Michael and Daniel farm 'Tara Hills' in Turakina, a 480 ha sheep and beef farm.  They are shareholders and foundation suppliers of Coastal Lamb.  Linda is also a registered nurse and for the last 30 years has enjoyed a diverse and exciting career in nursing including work in emergency departments, intensive care; and stints as a practise nurse and UCOL lecturer – all of which have led to her current position as the Clinical Coach in the Emergency Department at Whanganui Hospital.  In her role Linda works alongside registered nurses mentoring and guiding staff practice, adapting her own teaching to suit every individual she works with.  She loves her job and the fact that no two days are the same.The arrival and spread of Covid-19 in New Zealand has resulted in a huge amount of preparation and learning at Whanganui hospital, as it has in hospitals across New Zealand and around the world.  Linda is at the forefront of this and says from a professional point of view it's exciting and stimulating.
"This is what we train for – the emergent situations – it's great to see how staff and organisations deal with that – and it's good to be part of it.  There's been a huge amount of preparation and learning as we get staff and our facilities ready.  From a professional point of view I have found that very rewarding."
While there are no reported cases of Coronavirus in Whanganui to-date, Linda is confident as a hospital and as a staff they have the necessary training, expertise and equipment – they are ready for the inevitable and she's proud to be a part of it.  Even if it does mean at some point in the not too distant future she will have to move out of her family home to eliminate any risk of contracting and infecting her family.
Like many of us, she wonders how the spread of Covid-19 and our response to it is going to change the world we live in…
Wishing you and your family all the best in the weeks and months ahead Linda – Thank you for what you do.
NEWS IN A FLASH
Congratulations to Yannick Rooms and Victoria Van der Meersch who welcomed the arrival of their daughter, Paloma in March – their first child.  Yannick and his father Mark run All Meats, an intergenerational meat distribution business in Belgium.  I wrote about him last month as he enjoyed his first visit to New Zealand in the New Year.  We look forward to welcoming the whole family next time!
Q&A: DEAN FITNESS, CHEF'S CHOICE
A great article from the Whanganui Chronicle about our in-market partner Dean Fitness, who runs his family business Chef's Choice based in Whanganui – and is also a national Roller Hockey representative. Dean's Grandfather, Father and Uncle were all butchers so there's definitely plenty of history and experience in his chosen profession.  He is married to Nikki and they have two sons.  Dean has been playing roller hockey since he was 11 and his favourite sport has taken him all over the world to compete as part of the New Zealand team.  He's also very proud of his Whanganui Men's team winning the National Title in 2019.  Of course he runs a great operation in Chef's Choice – a thriving local family business Coastal Lamb is honoured to partner with.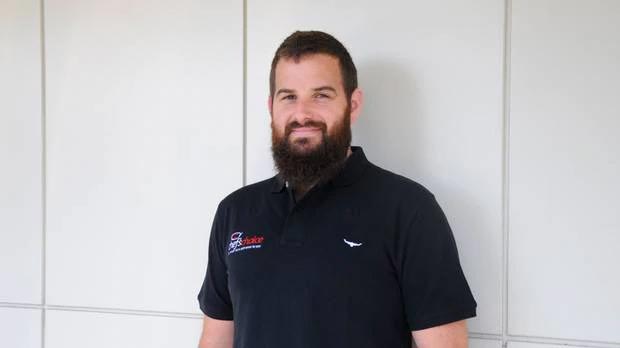 Read more...