Hoisin Coastal Lamb Backstrap with Green Beans and Walnut Salad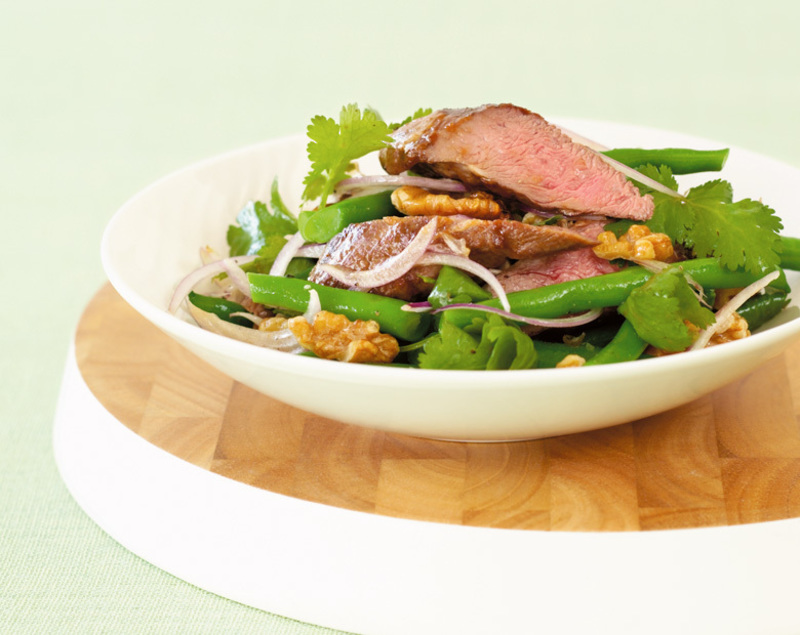 Ingredients
3-4 Coastal Lamb backstraps
1 tablespoon sesame oil
2 tablespoons hoisin
Green beans and walnut salad
300g green beans
30g butter, melted
100g walnut halves, toasted
half small red onion, finely sliced
¼ cup coriander leaves
Method
Brush the lamb with combined sesame oil and hoisin. Preheat a non-stick pan to moderately hot. Keep the heat at moderately high.
Cook one side of lamb until the first sign of moisture appears on the uncooked side, turn and cook other side. You may need to turn the meat three times so all sides are browned.
Test for doneness with tongs. Rare is soft when pressed, medium is springy and well done is very firm. Rest the lamb for a few minutes before serving. To serve, slice the lamb diagonally and serve on top of warm salad.
To make the salad
Cook the beans until just tender, toss with the butter, toasted walnuts, onion and coriander leaves, serve immediately.