Leg of Coastal Lamb Baked with Aubergine and Mint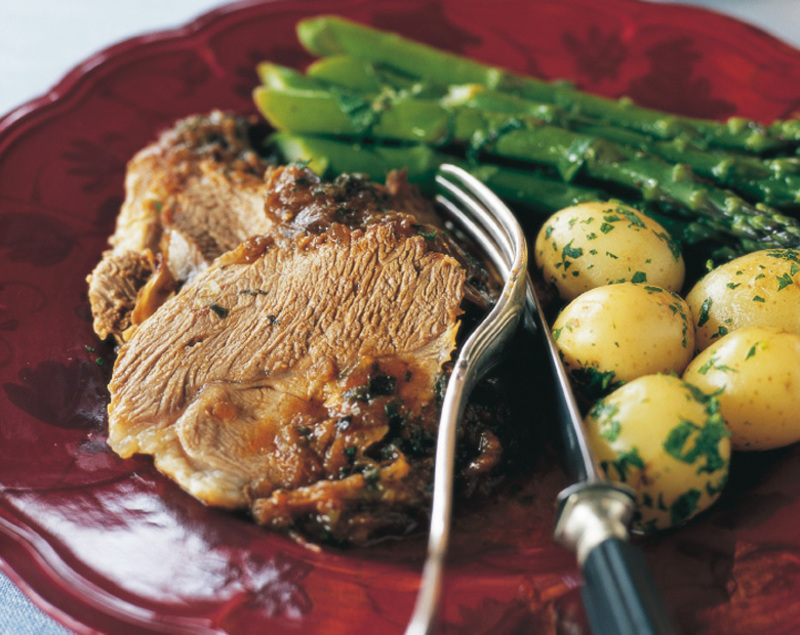 A nice variation on roast leg of lamb. The lamb is slowly cooked in a covered oven dish, rather like braising. Delicious minty aromas fill the kitchen when the moist lamb dish is cooking, and slow-baking the aubergine makes it almost melt into the sauce.
Ingredients
2-2.5kg leg of Coastal Lamb, well trimmed of extra fat
3 cloves of garlic
Salt and freshly ground black pepper
4 tablespoons olive oil
1 teaspoon sweet smoked Spanish paprika
1 small red onion, peeled and chopped
6 small ripe aubergines, cut in half lengthwise
1½ cups beef stock
2 cups fresh mint leaves, chopped
Method
Pre-heat the oven to 200°C. Peel the garlic and cut each clove into three slivers, then pierce the skin of the lamb and poke the garlic into the fine slits. Rub the skin with salt and pepper. Heat the olive oil in an oval casserole or heavy oven dish and brown the lamb on all sides. Remove from the dish and leave to stand while cooking the onion.
Add the paprika to the oven dish with the onion and fry gently until the onion starts to turn golden. Add the aubergine and toss well to coat, then add the stock and stir to dissolve any meat residue.
Place the lamb back in the dish with half the chopped mint. Bring the stock to a simmer, cover tightly and place in the oven. Cook for an hour, taking out once to stir the sauce gently and baste the lamb with the juices. After an hour, add the remaining mint and adjust seasoning to taste. Cook a further 10 minutes, then remove the dish and allow to stand, covered, in a warm place for 10 to 12 minutes before carving the lamb on a serving platter.
Spoon the juices and the aubergine over the meat. Serve with a few extra sprigs of mint, asparagus and some new potatoes tossed in parsley and butter.