JUNE 2020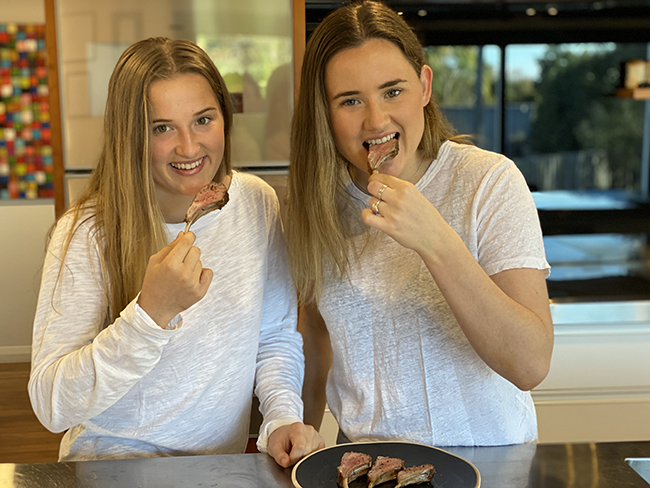 During Lockdown we kept busy by looking to build our brand awareness, boosting our social media profiles and also focusing on growing sales through our on-line shop. We've enjoyed some success and had a bit of fun too.
On line sales have seen a real boost and it is great to see even though we are now back to Level 1 sales continue to be steady.
NZ Post have had some challenges as we moved from Level 4 to Level 3. This resulted in delayed deliveries and was very disappointing for Suze and I as well as our customers.
To all of you affected in some way by this – thank you very much for your patience.
We did a shout out to our friends at Classic Fine Foods a few weeks ago – courtesy of some slick manoeuvring of the tractor and feed wagon by Rich, and some hungry sheep.  Thank you for the great response CFF!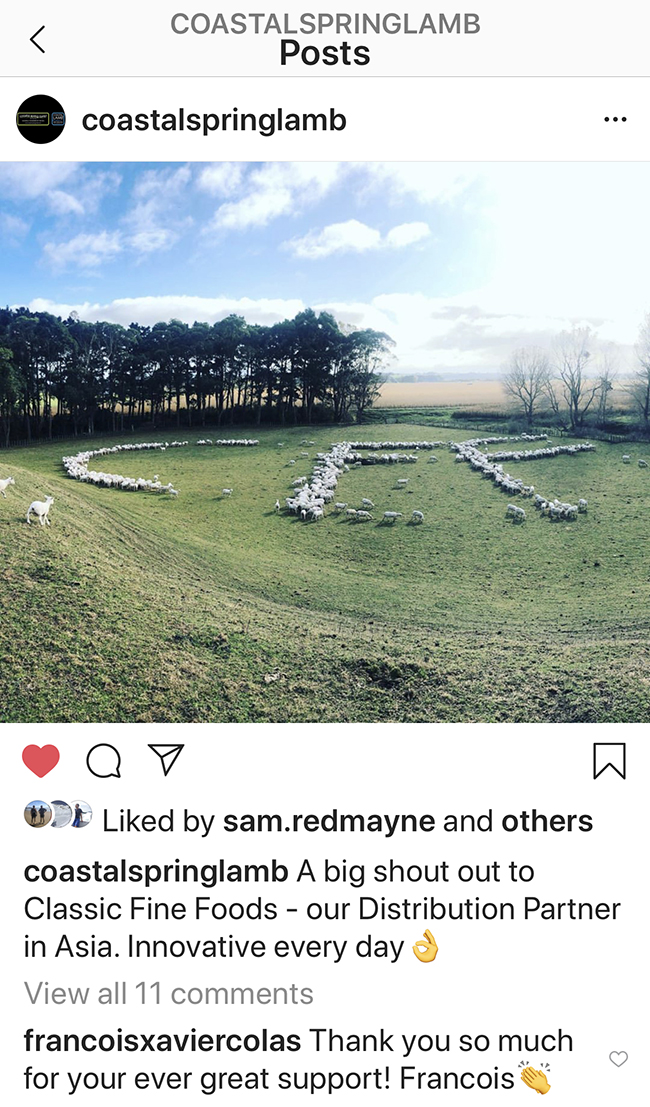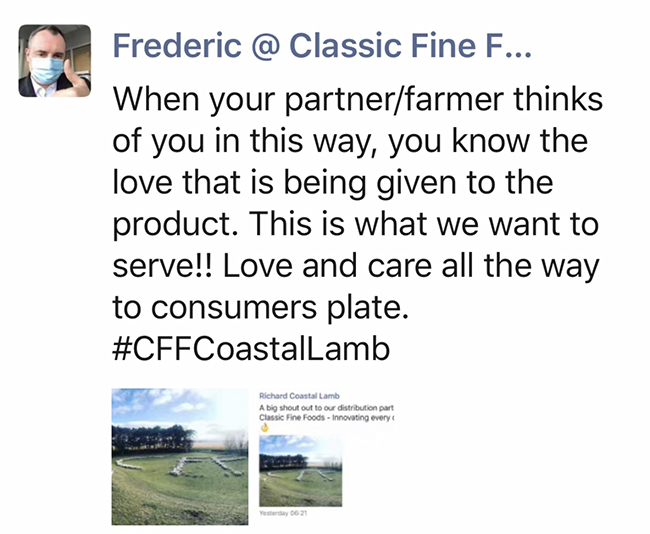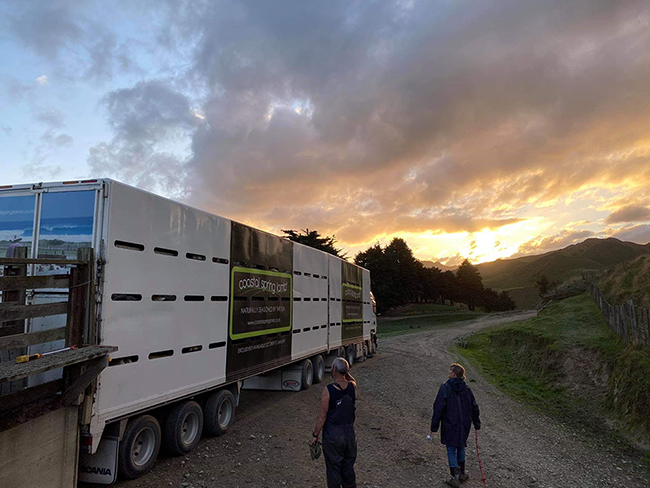 Rob and Sarah Craig and their children James, Jess and Toby farm at Rakautaua, a 360ha sheep and beef farm in Whangaehu, about 10km south of Whanganui. They are shareholder suppliers of Coastal Lamb.
They all enjoyed living under one roof at home on the farm for the six weeks of Lockdown. Their children are usually away at boarding school during term time so they made the most of their time together. They've all kept fit and healthy and enjoyed a bit of experimenting in the kitchen including making bread and kumbucha. Of course there was plenty of work too with the kids busy with online school, a few projects in the garden and as we all know, life on the farm never stops. Sarah works as a teacher with special needs' students at two schools in Whanganui and while she wasn't able to meet with her students she still keeping in touch with them and their families. One of the things her and Rob have missed most over the last couple of months is watching sport – and in particular – watching their kids play sport and they're excited sport is back on the agenda at every level!
The Craig's favourite way to eat Coastal Lamb is a sensational Sunday roast cooked by Rob, it's a tradition they enjoy year round, including in Lockdown.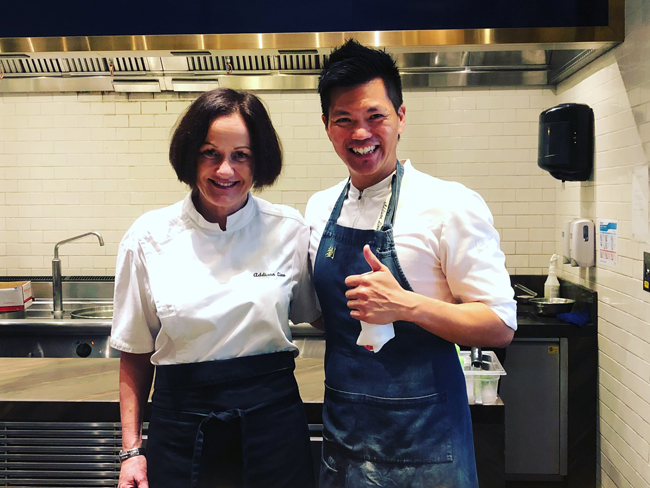 An on-line chat with Addison, the Executive Chef at the Waldorf Astoria Hotel about life in Beijing.
Are you back at work with your team at Brasserie 1893 at the Waldorf Astoria? Yes, we were back at work from the middle of March.
How long were you in lockdown? Me, myself was in lockdown for about 45 days (early February – mid-March). The hotel was open during the whole period of Covid, but with a very, very low room occupancy from Feb until the end of April.
What did you do during Lockdown? During my period of being in Lockdown, I was able to create new recipes / stay at home in peace and fully recharge myself mentally and physically. I enjoyed cooking at home, which I love to do. I didn't really hang out with anyone during the Lockdown as the government strongly discouraged people from different households spending time together. Everyone just stayed at home for most of the time.
Are you allowed to travel to other cities in China? From May onward, we have been allowed to travel, except to the high risk cities, for example Hubei Provence/ HeiLongJiang Provence/ JiLin Provence.
How is life in Beijing? Life in Beijing is getting better. I think we need at least 2 more months for a full recovery
How is business in Beijing – are people starting to eat out again? Definitely yes, people are enjoying dining out after 6 months' of lockdown, business is recovering and hotel occupancy is slowly getting back on track.
Great to hear you guys are getting back to normal Addison – it gives us all hope we will follow.
Have a quick look at Addison's fantastic hotel in Beijing.

NEWS IN A FLASH
Our Coastal Lamb Challenge winners have been busy too.
Johan Ducroquet  has been busy creating some fantastic dishes using our Coastal Lamb and sharing some inspirational videos on his restaurant's Facebook page.  Take a look, be inspired and get your taste buds going at Le Bistro Winebeast – they're worth following.
Roasted Rack of Lamb with garlic and herbs, served with seasonal vegetables
Coastal Lamb Fillet with its spring ratatouille
Thank you for your support Johan and for the amazing things you do with our lamb.
Meanwhile Mat McLean from Palate restaurant recently reopened his restaurant in Hamilton.  They got underway a couple of weeks ago with two sell-out opening nights so House and diners both very happy.
Giorgio Maggioni, Chef de Cuisine at Mandarin Oriental Singapore – has created this divine dish.
Read more...