Andrew Brown Coastal Lamb Racks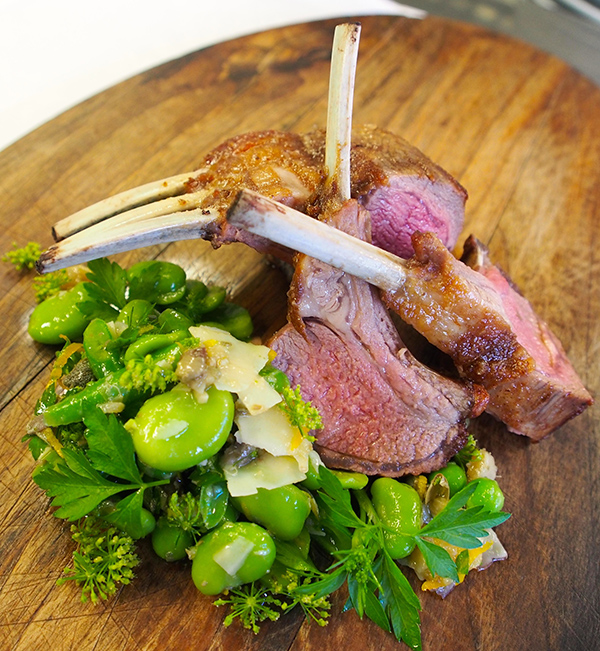 Coastal Spring Lamb Racks with Warm Green Bean Parmesan Salad
By Andrew Brown, Christchurch.
Ingredients:
Lamb
2 Coastal Lamb Racks (denuded)
Green Bean Dressing
200mls Extra Virgin Olive Oil
2tsp Parsley
2 cloves Roasted Garlic
2 Fillets Anchovies
1tsp Capers
2 Lemon – zest only
Flakey Sea Salt & Fresh Ground Black Pepper
Warm Green Bean Parmesan Salad
20-30 Fresh Green Beans – trimmed & sliced
¼ cup Green Peas
20-30 Broad Beans – shelled
¼ cup Picked Italian Parsley
¼ cup Parmesan Cheese – shaved & tossed with the beans & peas at the last minute.
Method:
Lamb
Sear first in a hot fry pan and then roast in the oven for 12 mins @ 200˚C. Cover loosely with foil and rest for 10 mins before carving into individual chops. Season with salt and pepper & serve with warm green bean Parmesan salad.
Green Bean Dressing
Blend all ingredients in a food processor or finely chop by hand.
Warm Green Bean Parmesan Salad
Blanch (submerge in boiling water for 20-30 seconds) green beans, peas & broad beans in boiling salted water. Strain the beans & peas, place in a mixing bowl, dress the blanched bean & peas mix with the dressing, season & finish with the parsley & Parmesan.