Coastal Lamb Harira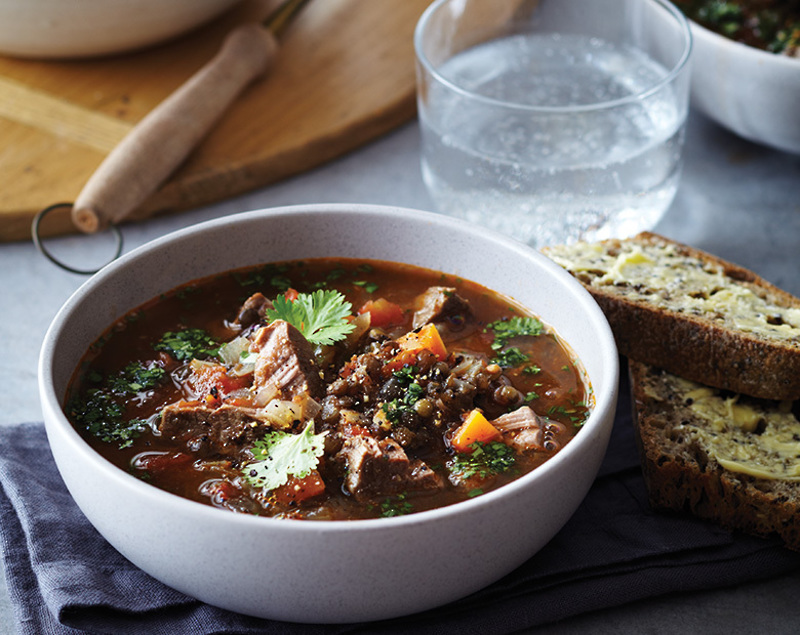 A twist on a traditional Moroccan soup – made with lamb and lentils.
Ingredients
Lamb
350g boneless shoulder of Coastal Lamb (or diced lamb)
½ teaspoon ground cumin
½ teaspoon smoked paprika
¼ teaspoon cayenne pepper
2 bay leaves
Pared rind of ½ lemon
4 cups Campbell's Real Stock – Vegetable
400g can chopped tomatoes in juice
½ cup lentils
1 onion, diced
1 carrot, diced
To serve
2 handfuls fresh coriander leaves, chopped
Method
Lamb
Cut lamb shoulder into 3cm pieces and place in a large saucepan with a dash of oil, ground cumin, paprika, cayenne pepper, bay leaves, lemon rind and vegetable stock. Place over a low heat and simmer, covered, until the lamb is tender, about an hour.
Pour in 2 cups water, tomatoes, lentils, onion and carrot and simmer for a further 30 minutes until all is tender.
To serve
Sprinkle with fresh coriander leaves and serve with warm crusty bread if you wish.
Slow cooker option
Preheat slow cooker for 20 minutes. Trim away excess fat from lamb and place in slow cooker with remaining ingredients, except coriander and slow cook on low for 6-8 hours.