Fig Tapenade-Stuffed Roast Shoulder of Coastal Lamb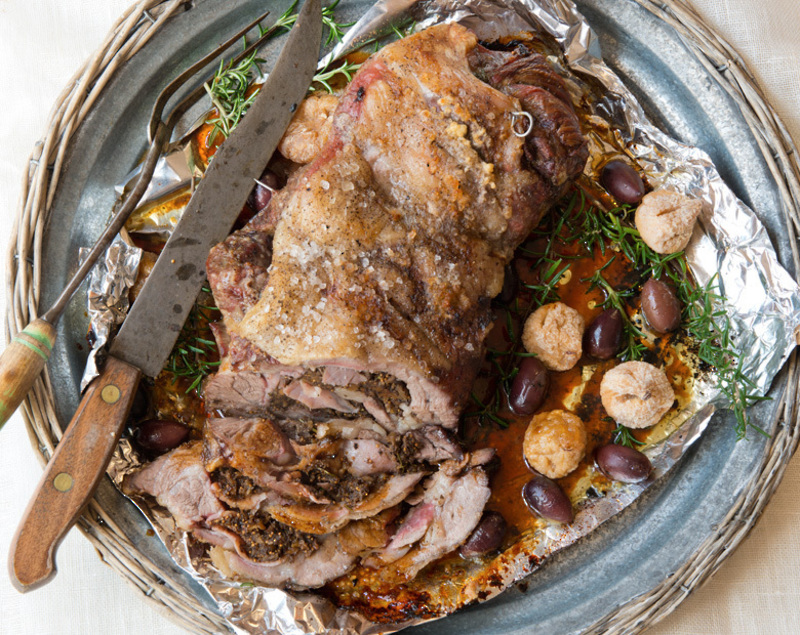 While a shoulder of lamb is not a culinary cut of great looks, when roasted on the bone or boned and rolled it is a favourite due to its sensational flavour and melt-in-the-mouth tenderness. Figs and olives are natural partners for lamb, all three are often used together in many Mediterranean cuisines.
Ingredients
1 x 1.5-2 kilogram boneless shoulder of Coastal Lamb
½ cup black olive tapenade
125 grams plump dried figs
1 tablespoon small fresh rosemary sprigs
3-4 rashers of bacon, rind removed
2 orange-fleshed kumara, peeled and halved
1-2 red onions, peeled and quartered
1-2 red capsicum, quartered and deseeded
Fig jus
2 tablespoon corn flour
½ cup finely chopped plump dried figs
2 cups light beef stock
¼ cup port
Method
Preheat the oven to 180°C.
In a food processor, process the olive tapenade, figs and rosemary to a coarse-textured paste. If the lamb is tied, remove the string and place skin-side down on a chopping board.
Arrange the bacon rashers on top of the lamb and spread over the processed fig mixture. Roll up and tie with the string to secure. Place on a roasting tray, brush with a little oil and season with salt and pepper.
Roast in the preheated oven for 1 hour. Arrange the kumara, onions, and capsicums around the lamb, turning them to coat in any residual fat on the roasting tray. Return to the oven for a further 45 minutes or until the lamb is cooked to your liking. Transfer the meat and vegetables to a serving platter.
Mix the ingredients for the Fig jus together, pour into the roasting tray and heat, stirring regularly on the heat, until thickened. Serve the lamb carved in thin slices, with the jus and vegetables, and garnish with olives and extra dried figs if wished.
This recipe is courtesy of Allyson Gofton's cookbook, Good Food Made Simple, photography by Alan Gillard supplied by Beef and Lamb NZ.