Roast Coastal Lamb Shoulder with Prune and Orange Stuffing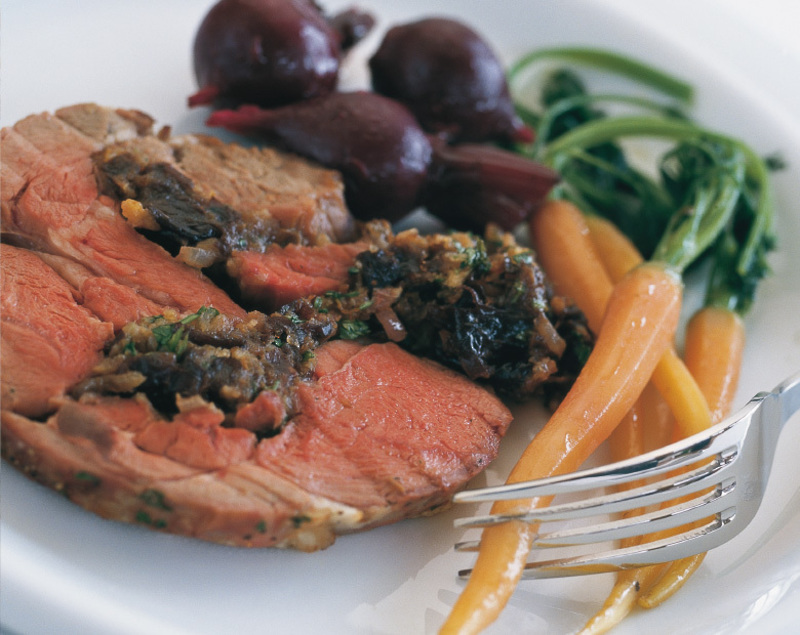 Ingredients
1 boneless shoulder of Coastal Lamb
200g moist pitted prunes
small glass port wine
Juice and zest of 1 orange
1 tablespoon olive oil
1 small red onion, peeled and finely chopped
3 slices stale white bread, crusts removed and made into breadcrumbs in the food processor
Small bunch flat-leafed parsley, chopped
Salt and freshly ground black pepper
Method
To make the stuffing, place the prunes in a small saucepan with the port and orange juice, and bring to a gentle simmer. Leave to cool and the prunes will absorb most of the liquid. When cooled, chop the prunes coarsely, retaining any leftover liquid.
Heat the oil in a heavy frying pan, add the onion and cook over a gentle heat until softened. Add the breadcrumbs, prunes and leftover liquid, and the parsley. Mix together well, season with salt and pepper. Allow to cool.
Preheat the oven to 200°C. Open out the boned lamb and spread the stuffing over the inside surface. Roll up and tie neatly with string. Season the outside with a little more salt and pepper and place in a roasting pan. Cook for 45 minutes and then remove from the oven. You can check if the lamb is cooked by piercing through to the centre with a meat skewer. The juices should be very pale pink – if they are dark pink or red, the lamb will be very rare and may need a little longer in the oven.
After resting the meat in a warm place for 10 minutes, remove the string, cut the lamb into thick slices and serve one slice per person with fresh seasonal vegetables.