Slow-Cooked Shoulder of Coastal Lamb with Late Summer Vegetables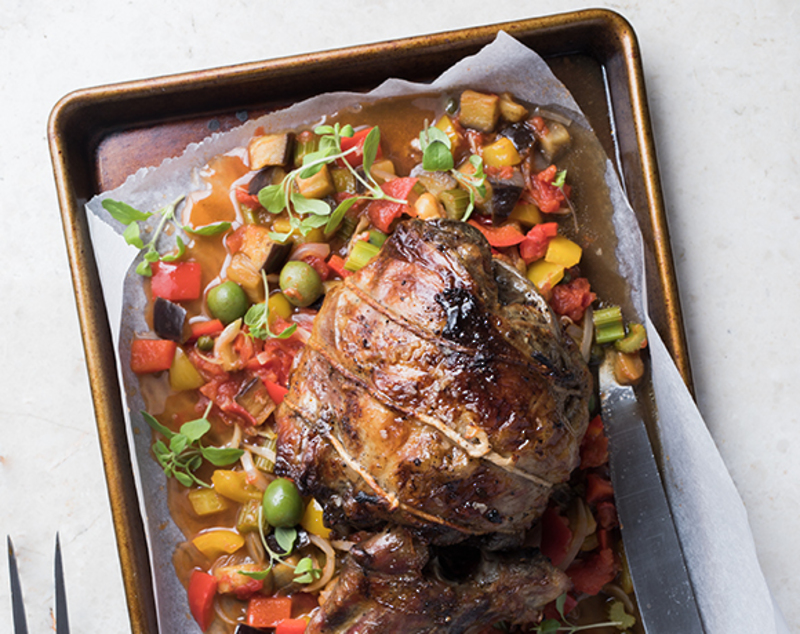 Ingredients
Lamb
1.8kg boneless shoulder of Coastal Lamb
4 sprigs rosemary, leaves finely chopped
2 tablespoons roughly chopped oregano or sweet marjoram leaves
3 tablespoons olive oil
1/2 cup white wine or white wine vinegar
Late summer vegetables
3 tablespoons olive oil
1 eggplant, diced
1 red onion, finely sliced
2 cloves garlic, crushed
2 sticks celery, strings removed with a vegetable peeler and diced
1 red and 1 yellow capsicum, cored, seeds removed and diced
1/4 cup red wine vinegar
pinch sugar
6 ripe tomatoes, skinned, cored and roughly chopped
1 tablespoon pitted olives
1 tablespoon capers, drained
a few extra sprigs of oregano or sweet marjoram
Method
Preheat the oven to 160°C.
Lamb
Lay lamb flesh-side-up on a chopping board. Spread over the herbs and season with salt and freshly ground black pepper.
Drizzle over the olive oil. Tie with kitchen string to secure.
Place the lamb, skin-side-up in a non-metallic oven dish and pour over the wine or vinegar. Pour 1/2 cup water around the lamb. Cover dish with its lid or make a baking paper and foil lid. Place in the oven and cook the lamb for 2 1/2 – 3 hours, or until the meat is very tender. Remove lamb from the oven (see tips). Pour the juices into a heatproof jug and remove all the fat once it has settled to the top.
Late summer vegetables
Pour the oil into a wide heavy-based saucepan and place over medium heat. Add the eggplant and cook until soft and golden, then add the onion and cook for a further 5 minutes. Add the garlic, celery and capsicum and cook for 5 minutes.
Pour in the red wine vinegar and allow to bubble up.  Add a pinch of sugar and the tomatoes. Cook for a further 5 minutes before stirring in the olives, capers and parsley.  Season with salt and freshly ground black pepper.
To serve
Slice the lamb and place on a warmed platter with the vegetables. Drizzle over hot meat juices. Finish dish with extra sprigs of oregano or sweet marjoram.