Barbecued Coastal Lamb Leg With Lentil and Spinach Salad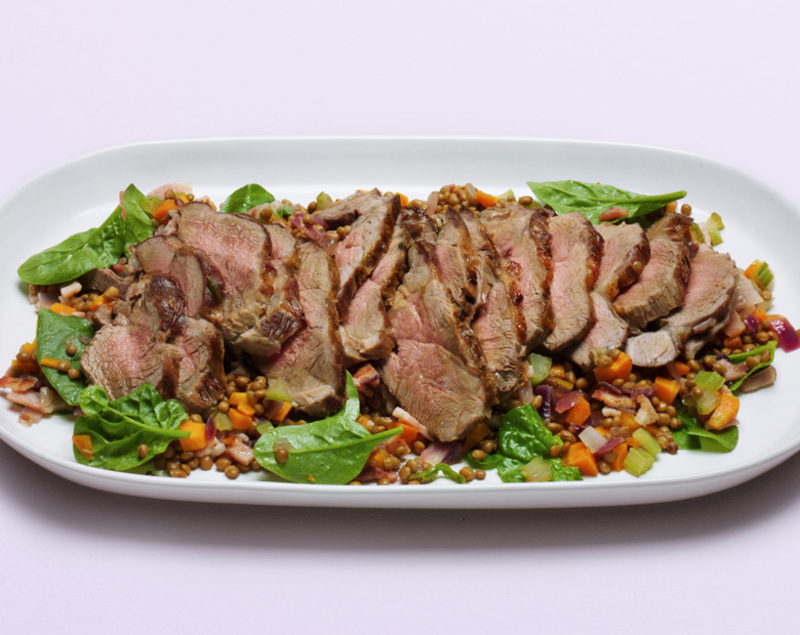 Ingredients
1.5 kg Butterflied Coastal Lamb Leg
1/3 cup extra virgin olive oil
4 stalks fresh thyme, leaves removed
3 stalks fresh rosemary, leaves remove, roughly chopped
1 small red onion, finely chopped
1 small carrot, finely chopped
1 stick of celery, finely chopped
2 rashers bacon, finely chopped
400g can lentils, drained, rinsed
2 teaspoons Dijon mustard
1 tablespoon red wine vinegar
2 cups (60g) baby spinach leaves
Method
Preheat the barbecue flat-plate or char-grill plate to hot. Lightly score the inside of the butterflied lamb leg in a criss-cross fashion. Combine 1 tbsp oil and herbs, rub over both sides of the lamb, and then season with salt and pepper.
Place the lamb on the barbecue, reduce heat to moderately-hot. Cook the first side of the lamb for 15-20 minutes, turn once with tongs and cook for a further 15-20 minutes. Cover lamb loosely with foil and rest it for 10 minutes before slicing.
While lamb is cooking, make the salad. Heat a large frying pan over a moderate heat, add 1 tbsp oil and heat. Add the onion, carrot, celery and bacon, cook stirring for 2-3 minutes or until vegetables have softened. Add the lentils and stir gently to warm through, remove pan from heat. Whisk together the mustard, vinegar and remaining oil.
To serve
Toss the spinach and the mustard dressing with the lentils, serve with the sliced lamb.