Herb Stuffed Butterflied Leg of Coastal Lamb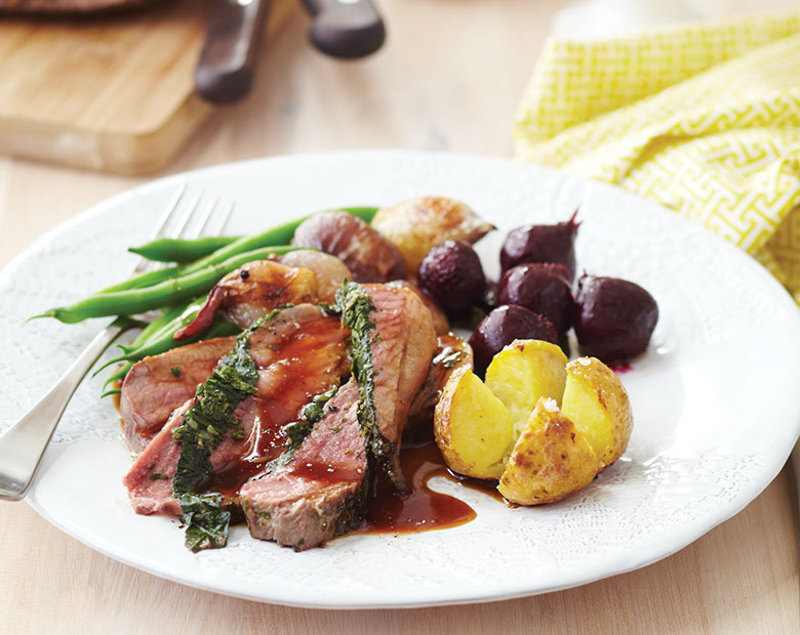 Cooking lamb is a favourite with many Kiwi families at Christmas time. This recipe has been tried and tested and believe us, it's perfect for the festive season. The lamb is meltingly tender and the herb stuffing adds bursts of flavour not to mention beautiful colour to the dish. But the best part? It's quick, which means more time to spend with family and friends.
Ingredients
Lamb
1 Boneless Coastal Lamb Leg (about 1.5kg)
Green herb paste
2 spring onions, very finely chopped
2 tablespoons chopped fresh parsley
2 tablespoons chopped fresh coriander
1 tablespoon chopped fresh chives
1 teaspoon chopped fresh oregano, or ½ teaspoon dried
2 cloves garlic, crushed
3 tablespoons lemon juice
¼ teaspoon ground cumin
3-4 tablespoons oil
Beetroots and dressing
3 bunches baby beetroot (about 15)
2 tablespoons cider vinegar
1 tablespoon pure maple syrup
¼ cup olive oil
To serve
8 large shallots, root end trimmed and peeled
16 baby potatoes, scrubbed
Steamed green beans
Gravy
Method
Preheat the oven to 220°C conventional bake.
Green herb paste
Place all the ingredients, except the oil in a food processor and mix for 30 seconds. Drizzle in the oil until it forms a paste. Season and set aside.
Lamb
Open out the lamb, trim off excess fat and skin and place with the flesh side up, . Spread over the green herb paste. Starting from one narrow end, roll up neatly into the best shape you can and tie at intervals with kitchen string to secure.
Place lamb in a roasting dish and place in preheated oven. Roast for 20 minutes, then reduce the oven temperature to 190°C and roast for a further 40 minutes together with the shallots and potatoes. Transfer lamb and roasted vegetables to a warm plate, cover loosely with foil and keep in a warm place while you make the gravy.
Beetroots and dressing
While the lamb is roasting, prepare beetroots. Put the vinegar and maple syrup in a bowl and whisk in the oil. Season with salt and freshly ground black pepper. Set aside. Boil beetroot in lightly salted water for about 35 minutes or until just tender when tested with a skewer. Peel beetroot either by using a small sharp knife, or by using your fingers to rub off the skins under slowly running cold water. Cut beetroots in half and place into the dressing and toss. Set aside.
To serve
Slice lamb and place down the centre of a large platter. Surround lamb with roasted shallots and potatoes on one side and beetroot and steamed green beans on the other.
Serve with a jug of gravy.