Coastal Lamb Nachos with Avocado Salsa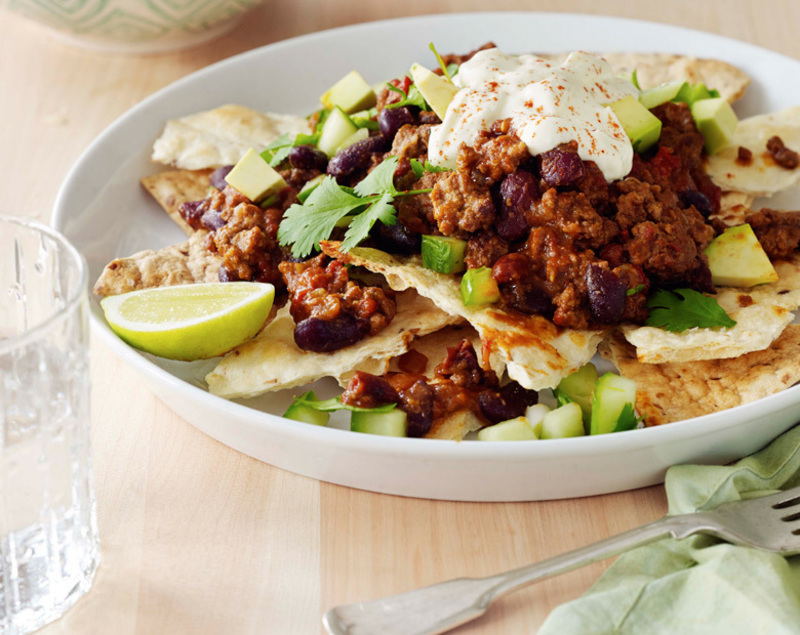 Who doesn't love nachos? If you cant find the perfect avocados switch them out for a tomato salsa or spicy jalapenos.
Ingredients
Nachos
500-600g Coastal Lamb lean mince
1 onion, finely chopped
3 cloves garlic, crushed
2 teaspoons mild smoked paprika
1 teaspoon ground cumin
¼ teaspoon chilli powder (optional)
400g can chopped tomatoes
400g can red kidney beans, drained
2 cups Campbell's Real Stock – No Added Salt Beef
1 cup roasted red capsicum, sliced
1 teaspoon brown sugar
3-4 wholemeal wraps
Salsa
1 large ripe avocado, diced
1 cucumber, deseeded, diced
½ cup fresh coriander, chopped
Juice of 1 lime
To serve
Sour cream
Fresh coriander
Method
Preheat the oven to 180°C.
Nachos
Heat a little oil in a large frying pan over a high heat. Fry the mince in two batches to brown, drain off the fat and set the mince aside in a bowl.
Wipe the pan clean, reduce the heat to medium and add a dash of oil. Add the onion and garlic and cook, stirring for 5 minutes until soft. Add the drained mince back to the pan along with the spices, tomatoes, beans, stock, capsicum and sugar. Simmer until reduced to a thick sauce (around 20-30 minutes). Taste and season as required.
Brush the wraps lightly with oil, sprinkle with a pinch of salt and place on oven trays. Bake in the oven for about 10 minutes or until crisp, turning over once. Break them into big chips.
Salsa
Combine the ingredients gently in a bowl just before serving and season with salt and pepper.
To serve
Place chips onto plates and top with the mince. Add a spoonful of salsa, a dollop of sour cream and fresh coriander.