Warm Salad of Coastal Spring Lamb with feta and red capsicum mayonnaise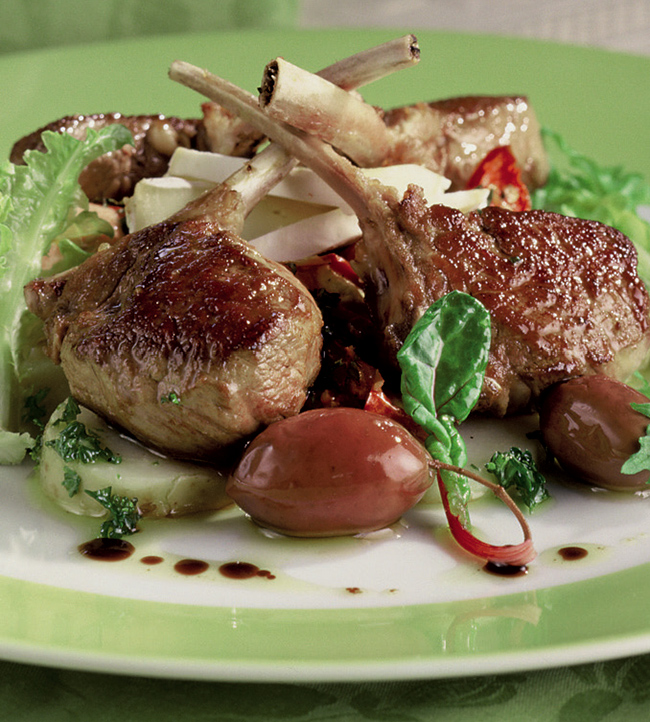 Ingredients:
12 Coastal Lamb cutlets
Feta, thickly sliced
Potatoes:
12 small gourmet potatoes
2 tsp chopped flat-leaf parsley
100ml olive oil
1 small clove garlic, crushed
Milled pepper and salt
Red capsicum mayonnaise:
1 garlic clove, peeled
1 large red capsicum, roasted, skinned
1 small chilli, seeds removed
2 egg yolks
Juice of ½ a lemon
125ml olive oil
125ml vegetable oil
Milled pepper
Maldon salt
Garnish:
Slow-roasted tomatoes
A selection of salad leaves
18 whole olives
Balsamic vinaigrette
Fresh basil sprigs
Method:
The Potatoes
Boil or steam the potatoes until tender but not too soft. Allow to cool then slice and lay in a shallow dish. Mix the parsley into the olive oil, add garlic and season with salt and pepper. Evenly pour over the sliced potatoes, cover and refrigerate for at least one hour.
The Mayonnaise
Place garlic, roast capsicum and chilli in a food processor and make a paste. Add egg yolks and lemon juice and process until light in colour. Slowly add the oil mixing as you go until it is all in. season to taste with salt and pepper then store in a stainless steel bowl.
The lamb
Season the lamb then sear well on all sides. Roast in a pre-heated oven to medium-rare. Once done allow to rest in a warm place. Place the feta on a tray ready to warm through.
To Serve
Lightly warm the feta and roasted tomatoes. Divide the sliced potatoes between each plate then top with feta, cutlets and warmed tomato. Scatter round olives and salad leaves and drizzle with a little balsamic vinaigrette. Spoon on the capsicum mayonnaise and garnish with fresh basil. Serve immediately.