Baked Coastal Lamb & Rosemary Cannelloni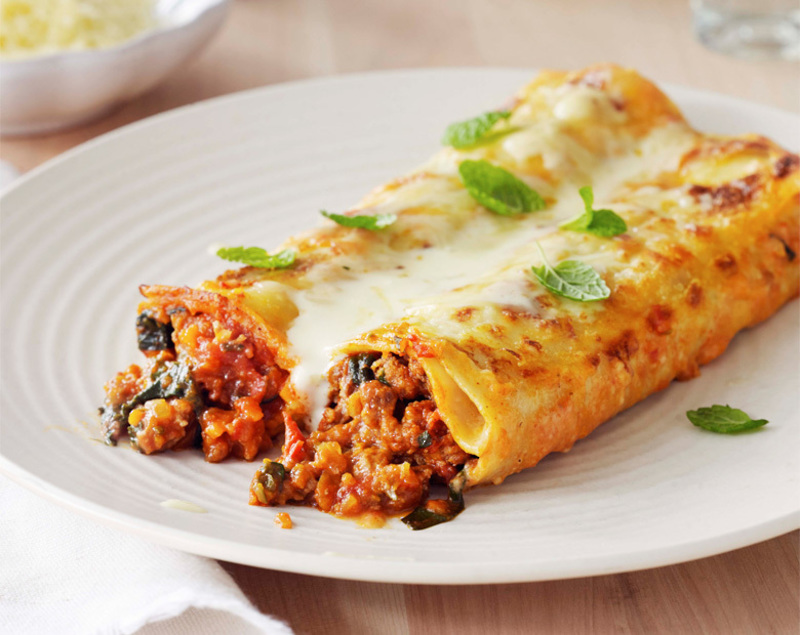 A delicious twist on an italian classic.
Ingredients
Filling
600-800g Coastal lamb mince
1 onion, finely chopped
2 cloves garlic, crushed
2 x 400g cans chopped tomatoes
1 cup Campbell's Real Stock – Salt Reduced Chicken
¼ teaspoon cayenne pepper
1 teaspoon sugar
2 tablespoons fresh rosemary, finely chopped
1 cup pumpkin, grated
1 cup spinach, chopped
¾ cup fresh mint leaves, roughly chopped (plus extra for garnish)
200g crème fraîche
Cannelloni
3-4 fresh lasagne sheets
1 cup cheese, grated – mozzarella, Cheddar, Parmesan or a mixture
Method
Preheat the oven to 180°C.
Filling
Heat a dash of oil in a large saucepan over a very high heat. Add the lamb in two batches to brown, breaking up any lumps with a wooden spoon. Drain and set aside in a bowl.
Reduce the heat to medium and add another dash of oil to the pan. Add the onion and garlic and cook for about 5 minutes until the onion is soft. Add the lamb back to the pan along with one can of tomatoes, stock, cayenne pepper, sugar, rosemary, pumpkin and spinach. Simmer for about 10 minutes until reduced to a thick sauce. Stir through the mint and season to taste.
Cannelloni
Cover the base of the baking dish with the second can of tomatoes. Bring a pot of water to the boil. Remove from heat then soak the unfolded pasta sheets for a few minutes to soften. Gently remove with a wooden spoon and cool slightly, then cut into rectangles. Spoon a line of the mince near the short edge of a rectangle and roll it up. Place the roll seam side-down in the baking dish. Repeat until the dish is full. Spread the crème fraîche over the cannelloni tubes to cover them, sprinkle with the cheese, season with salt and pepper and bake in the oven for 30 minutes.
If need be, grill for a few minutes just before serving to get it golden and bubbling on top. Just before serving, sprinkle with extra mint leaves. Serve with a crisp seasonal salad dressed with vinaigrette.