Fast Autumn Coastal Lamb Stir-Fry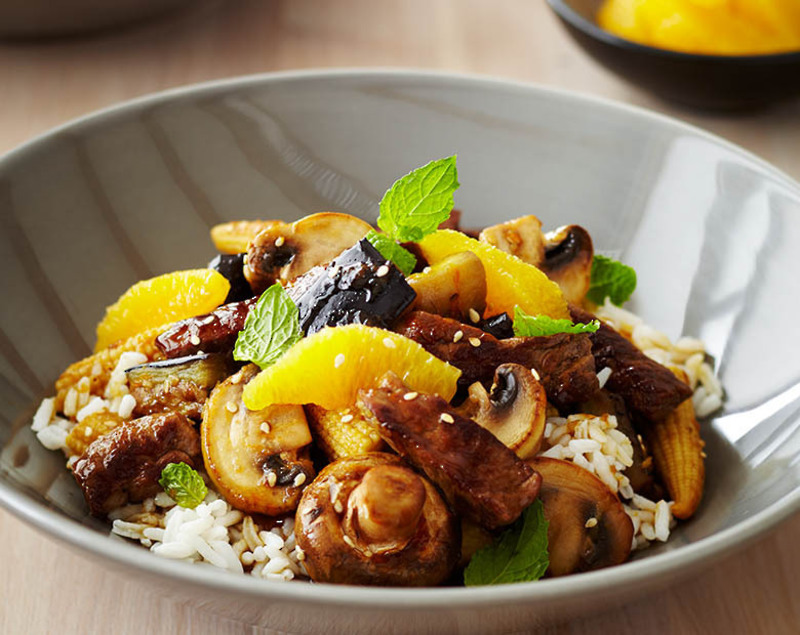 You don't often think of using lamb in a stir-fry, but it is delicious. The success to a good stir-fry is to have all your ingredients prepared and placed in the order you are going to add them to the wok, as this is all about quick cooking.
Ingredients
Lamb
400g Coastal Lamb leg steaks
Wok vegetables
2 oranges
250ml beef stock
3 tablespoons liquid honey
2 tablespoons light soy sauce
1 tablespoon green chilli sauce
2 tablespoons cornflour
½ cup peanut or vegetable oil
½ eggplant, cut into 2.5cm pieces
250g button mushrooms, wiped and halved if large
425g can baby corn, drained and each baby corn cut into 3 pieces
1 tablespoon grated fresh ginger
To serve
1 tablespoon sesame seeds, toasted
¼ cup fresh mint, roughly chopped
Steamed rice
Method
Stir-fry
Grate the zest of both oranges into a small bowl. Cut away the peel and pith from each orange and segment over the bowl collecting the juice as you go. Place orange segments on a plate and set aside. Add the stock, honey, soy sauce and chilli sauce into the bowl with the orange zest and juice. Mix well and set aside.
Cut the lamb in strips (3cm x 1cm), season and coat the lamb with the cornflour.
Heat a wok or large frying pan over a high heat. Add a dash of oil and when hot, add the eggplant cubes and stir-fry until golden and soft, about 3 minutes. Add the mushrooms, stir-frying until soft. Add baby corn and stir-fry for 30 seconds. Transfer all to a bowl.
Add one more dash of oil to the wok and heat until just smoking. Add half of the lamb strips and stir-fry until browned, about 1 minute, then add to vegetables. Add remaining lamb strips and repeat.
Add ginger to the wok and stir-fry for 10 seconds. Add orange and stock mixture and bring to the boil. Boil until reduced by one-third. Return lamb and vegetables to the wok and stir-fry until heated through.
To serve
Stir the sesame seeds and mint into the wok and season with salt. Place lamb and vegetables in a warmed serving bowl and top with the orange segments. Serve with steamed rice.