Coastal Lamb Rump Steaks With Red Lentil Salad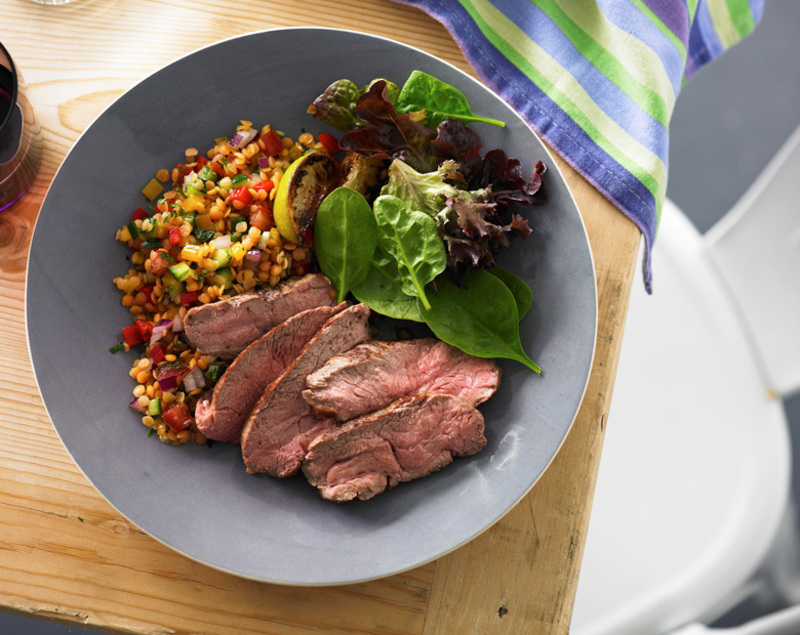 Ingredients
4 x Coastal Lamb rump steaks
¾ cup raw red lentils
1 small red capsicum
1 small yellow capsicum
3 tomatoes
1 Lebanese cucumber
¼ bunch parsley, chopped
¼ bunch mint, chopped
½ teaspoon cumin
1 red onion
Zest and juice of 1 lemon
2 tablespoons olive oil
Pepper
Method
Pre-heat a frypan and brush the steaks with olive oil. Cook on one side until moisture appears, then turn and cook the other side. Test the 'degree of doneness' by touching the meat – it will feel springy for medium and very firm for well done. Remove from heat and allow to rest, loosely covered with aluminium foil.
For the salad, cook lentils in boiling water for 3-4 minutes to retain texture and colour. Drain and place in cold water.
Dice all vegetables and place in a bowl. Add lentils and chopped parsley and mint.
Season with cumin, pepper, lemon zest and juice. Stir to combine.
To Serve
Serve this dish with grilled lime.