Crusted Coastal Lamb Salad Rolls With Pistachio, Mint & Parsley Pesto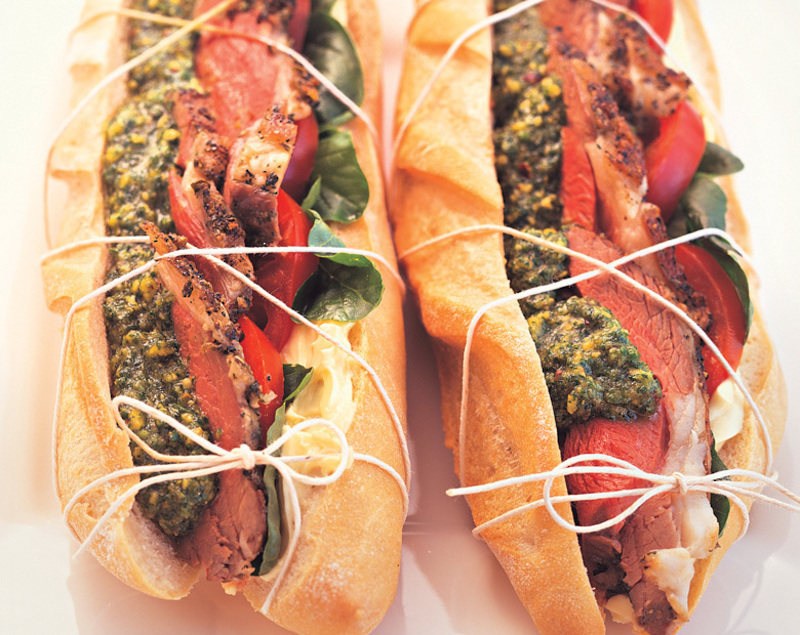 Ingredients
2 Coastal Lamb rumps
1 clove garlic
1 Tbsp chopped fresh mint
1 tsp green peppercorns, chopped
¼ tsp salt
½ tsp freshly ground black pepper
6 bread rolls
½ cup crème fraiche or mayonnaise
Tomato slices and baby lettuce leaves
Method
Mix together the garlic, mint, peppercorns, salt and pepper and rub firmly over the lamb rumps. Place in a resealable plastic bag. Refrigerate overnight if possible.
Roast the lamb rumps at 190°C for 30 minutes or until the juices run clear when a skewer is inserted into the thickest part. Remove and allow to cool for 10 minutes.
Cut the bread rolls lengthwise without cutting all the way through. Spread one side well with crème fraiche or mayonnaise. Slice the lamb and arrange on top with tomato slices and baby lettuce leaves. Finish with a good serving of the Pistachio, Mint and Parsley Pesto. If going on a picnic, tie with string and wrap well with foil or plastic wrap.
Pistachio, Mint and Parsley Pesto
Into a food processor put 1 cup firmly packed parsley leaves, ¼ cup firmly packed mint leaves, ¾ cup shelled unsalted pistachio nuts, ½ cup grated parmesan or cheddar cheese, 1 clove garlic, crushed and peeled, and grated rind and juice of 1 lemon. Process until chopped. With the motor running, pour ½ cup olive oil down the tube to make a thick paste. Makes 1 ½ cups.