Josh Emett Lamb Shoulder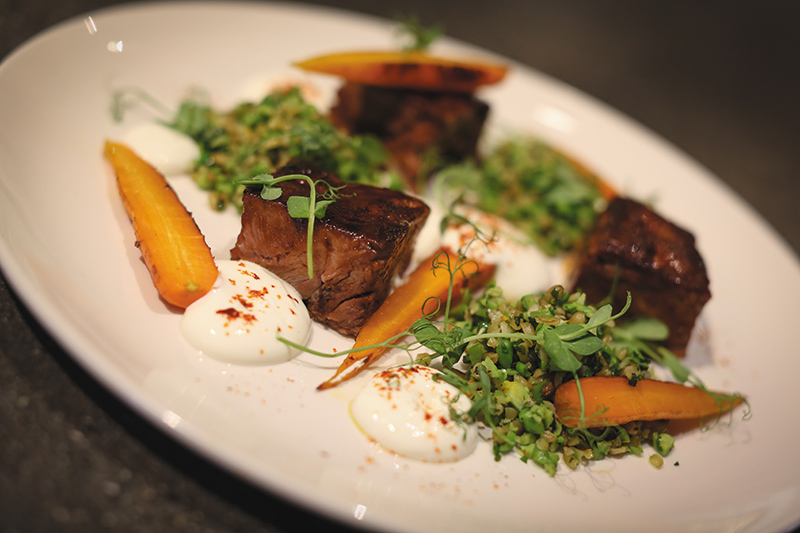 Slow Braised Costal Spring Lamb Shoulder, Frekah Wheat "Primavera" Roasted Spring Carrots & Buttermilk
Ingredients:
Braised Coastal Lamb Shoulder
1 Coastal Lamb Square Cut Shoulder
1 White onion
1 Carrot
1 Leek
3 heads of Garlic, Halved
2 Sticks of Celery 1 large stick of Rosemary
1 handful of Thyme
1T tomato paste
2 liters Chicken Stock
200 mls White wine
Freekah wheat
100g freekah
100g peas
100g broad beans
6g chopped parsley
6g chopped mint
1 lemon zest
30ml good quality olive oil
2 pinches of fine chili flakes
2t flake salt
Method:
Lamb
Cut vegetables and place in the bottom of a roasting tray with Herbs. Season Lamb with salt.
Roast in the oven uncovered on 200 degrees for 30 mins. Remove and deglaze with white wine and tomato paste on the stove top.
Add warmed Chicken stock and cover with baking paper and tin foil. Cook on 160 degrees in the pre heated oven for approx 2 hours or until meat is starting to fall from the bone.
Allow the Lamb to cool to room temp before removing from liquid. Reduce braising liquid for a acompanying sauce.
Freekah wheat
Cook freekah wheat until tender approx 15min follow packet instructions. Strain and place on a flat tray and cool evaporating all moisture.
Blanch peas refreshing in iced water. Pod broad beans. Make sure peas and beans are dry, pat with a tea towel then chop to the size of the wheat. Place wheat, peas, broad beans chopped parsley and mint into a bowl, season with olive oil, chili, lemon and salt.
Roasted spring carrots
Place 4 spring carrots in a pan ½ cook approx 8 min, remove skin this can be done rubbing with a paper towel. Make sure carrots are dry heat a thick bottomed fry pan with 3T of olive oil. Roast carrots until coloured on outside, add 1T of butter and reduce heat, gently roll carrots until evenly coloured. Slice in half.
Buttermilk
Overnight hang buttermilk in muslin cloth until whey is separated. Discard the liquid the remaining buttermilk should be yoghurt consistency. Unsweetened natural yoghurt could be used as a substitute.
A Rata restaurant presentation was used with this recipe. My suggestion is to serve the lamb shoulder whole on a serving plate with roasted carrots.