Coastal Lamb Cutlets with Quinoa Crust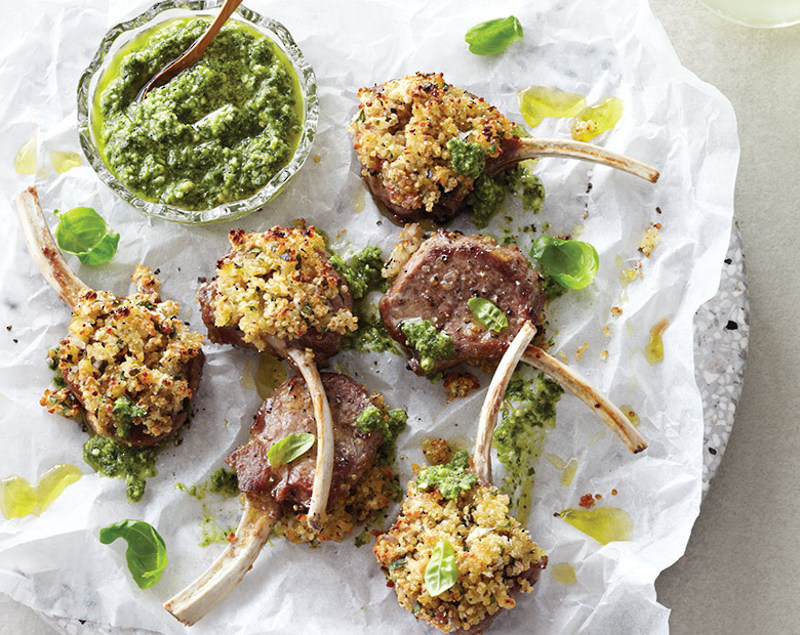 A slightly different way to use this ancient grain. You can use this recipe with a variety of different lamb cuts and it will always taste great.
Ingredients
Lamb
12 Coastal Lamb cutlets, well trimmed
Quinoa Crust
¾ cup cooked white quinoa
¾ cup fresh white breadcrumbs
½ tablespoon chopped fresh oregano or 1 teaspoon dried oregano
½ teaspoon garlic powder or lemon seasoning, optional
Milk, to moisten
Basil Pesto
1 cup well-packed basil leaves
2 cloves garlic, crushed
2 tablespoons pine nuts, toasted
½ cup olive oil
2 tablespoons freshly grated Parmesan cheese
Methods
Preheat the grill until hot.
Basil Pesto
Place basil leaves, garlic, pine nuts and oil in a small food processor and process to a rough paste. Season with salt and freshly ground black pepper and then stir through the Parmesan cheese. Place in a small bowl, cover well and refrigerate.
Quinoa Crust
Place all ingredients except milk in a bowl and mix. Pour in enough milk to just moisten. Press crust on to one side of each lamb cutlet, place on an oiled grilling tray, crust side down. Place under hot grill for 2 minutes. Remove from grill, turn cutlets over, drizzle with a dash of oil and return to the grill for a further 3-4 minutes.To serve
Serve lamb cutlets with basil pesto and a fresh summer salad or barbecued summer vegetables.