Paprika Spiced Coastal Lamb Cutlets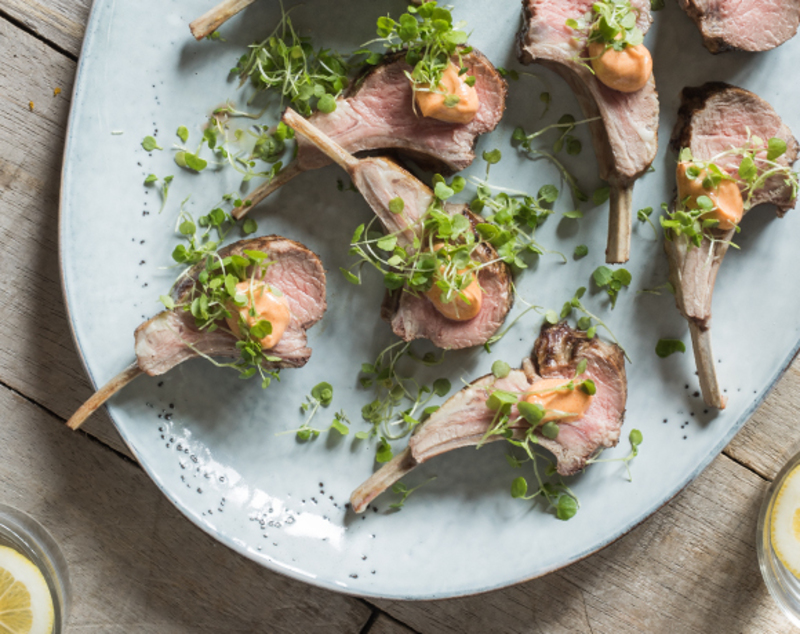 Barbecue these lamb cutlets and top with a generous dollop of homemade smoked paprika mayonnaise, for the perfect starter.
Ingredients
Lamb
2 x Coastal Lamb 8 bone lamb racks, trimmed of any silver skin
oil for rubbing
Smoked paprika mayonnaise
3 egg yolks
1 teaspoon Dijon mustard
1 cup olive oil
lemon juice, to taste
1 teaspoon good quality smoked paprika (we used bittersweet smoked paprika)
To serve
1 punnet watercress micro greens
Method
Smoked paprika mayonnaise
Place the egg yolks and Dijon mustard in the bowl of a small food processor. Process until combined, then very slowly drizzle in the olive oil. Add lemon juice as the mixture thickens. Season with salt and more lemon juice to taste. Stir through the smoked paprika. Transfer to a bowl, cover and keep in the fridge.
Heat a barbecue plate until hot.
Lamb
Rub lamb racks with a little oil and season. Place on the barbecue, flesh-side-down and barbecue for 3-4 minutes. Turn racks (on to bones), cover each with foil and barbecue for a further 15 minutes, for lamb that is only slightly pink. Remove to a board, cover loosely with foil and a tea towel and leave to rest for at least 10 minutes.
To serve
Slice the lamb racks into cutlets and place on a serving plate. Top each with a dollop of smoked paprika mayonnaise and a sprinkling of micro greens.  If wished, sprinkle with smoked paprika.