The Dominion Post, Nov 2012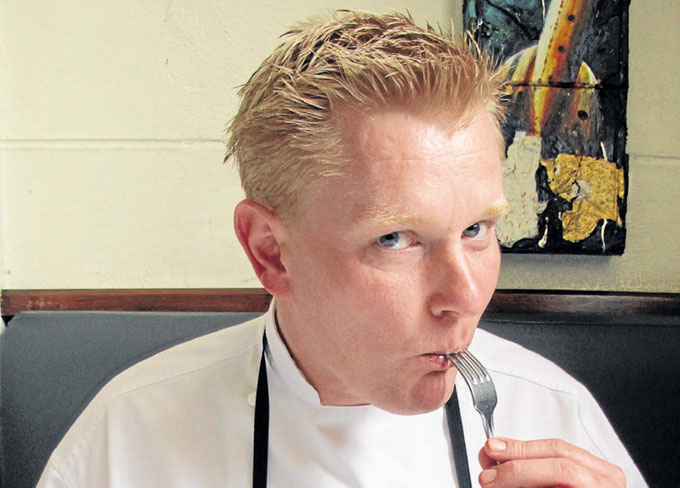 by Jon Morgan
Spring lambs tenderised by salt-laden coastal breezes
LOGAN BROWN head chef Shaun Clouston takes a bite, chews thoughtfully, swallows and then licks his lips.
''By crikey, that's beautiful,'' he says, shaking his head slowly, wonder in his voice.
On the plate is a lamb rump, finely sliced, with kumara, crushed peas and roasted tomatoes. It's a simple dish. ''I want the lamb to be the hero,'' Clouston says.
This is not any lamb. The meat is from a young spring lamb, only 4 months old when it was sent to slaughter, and from a farm on the coast south of Whanganui.
It's hard to be sure what makes it so tender and tasty, but Clouston thinks the sea salt blown on to the pastures by the prevailing westerlies has a lot to do with it. ''It tenderises the meat and adds its own flavour.''
Farmer Richard Redmayne, whose family has grown sheep and beef at Tunnel Hill, Turakina, for 76 years, agrees, but says the quality of the pasture is also a big factor.
The lambs are given the best, ryegrass and clovers mixed with herbal plantain, chicory and lotus. The grass in late winter and early spring has what scientists call high metabolisable energy.
This means the lambs grow fast, putting on more than 300gm a day at a time when grass growth has slowed almost to a standstill on most farms. But Tunnel Hill has warm sandy soils that nurtures the pastures, giving the Redmaynes a marketing advantage they have exploited over the years.
Traditionally, they sent their early lambs to exporters who paid a premium to get them to Britain in time for Christmas. But Redmayne felt he and wife Suze, who have three children, needed a closer connection to the shopper and diner who enjoyed the fruits of their labours.
''How can you keep on improving if you don't know what your customer thinks of your product?
''I thought about what Tunnel Hill was doing that was unique – producing some of the first spring lambs – and wondered how I could find a market niche that brought me closer to the consumer.''
At a field day he heard about the importance of ''provenance'' – a product's reputation for reliability, encompassing place of origin, quality, animal welfare, environmental stewardship and, most important for a retailer, ontime delivery, all wrapped up in a good story.
''It was what I was waiting to hear,'' Redmayne says. ''Suddenly, my thinking crystallised.''
He approached Foodstuffs Wellington and the idea of supplying early spring lamb to New World supermarkets quickly developed.
The first year, 2010, he supplied 2500 lambs to processor Land Meat at Whanganui, who sent the jointed carcasses to New World butchers in several stores.
Promoted as Coastal Spring Lamb for 12 weeks, it was a runaway success with demand outstripping supply. Looking ahead to the next year and the opportunity to supply all 42 lower North Island New Worlds, the Redmaynes realised they needed more lambs. So they asked three other families to join them.
The farmers – Richard and William Brewer, South Taranaki, Patrick, Tim, Michael and Chris O'Neill, Turakina, and Cam McKelvie, Tangimoana – are all from long-established families, who feel passionately about farming and grow spring lambs on the coast.
The group sold 6000 lambs last year, helped by an in-store tasting campaign by the Redmaynes.
''Some people didn't believe we really were the farmers who were producing this lamb. I guess they hadn't seen farmers in their supermarket before,'' Suze Redmayne says.
''We shared our story with them, gave them a taste of the lamb and were delighted to see them go to the chiller to buy it. One guy was in the checkout queue when he overheard people talking about our lamb, so he came back to get some.''
This year, the farmers have opened up a new sales front with the aim of selling 10,000 lambs. They have linked with Whanganui meat wholesaler Chef's Choice and Auckland's Neat Meat to add 30 top-end restaurants and another 30 retailers to the established New World supply.
Chef's Choice co-owner Dean Fitness says the farmers' proposal struck a chord with him. ''Spring lamb is hard to come by and these guys have a great provenance that appeals to me. It's hard to get a compliment out of chefs but they like this. Shaun at Logan Brown has a good eye, and if he likes it then it must be good.''
'I guess they hadn't seen farmers in their supermarket before.'
 – Suze Redmayne
Another who welcomes the new lamb is Hayden McMillan, head chef of TriBeCa in Parnell, Auckland.
''The more chefs can buy off someone passionate about their food the more pride they can have in the dishes they prepare,'' he says.
The lamb has a delicate succulent flavour, not as strong as lamb later in the season, he says. His waiters tell diners to order this ''limited edition'' while it is on the menu.
Richard Redmayne, who has an economics degree, remains the driving force behind the venture. He plans the 12-week programme, ensuring each farm is supplying the right number of lambs, at the right weights – 16-18kg carcassweight – and at the right times.
''As farmers we're told to do this by the meat companies but when the lambs leave the farm that's the end of our job. Now we know what happens next.''
He and the other farmers have visited the restaurants to talk to the chefs, a thrill for both parties.
''It was always my dream that one day we would make our lamb into something special, but to make it to the top restaurants in our third year – I didn't expect that so soon,'' he says.
It is also profitable. Redmayne won't reveal pricing details, but admits he is getting better money than if he contracted to supply his early lambs to an exporter.
''The farmers are paid a premium at slaughter and we charge a premium to the retailers, out of which comes the cost of promotion,'' he says.
The latest promotion is a restaurant competition to produce a dish featuring Coastal Spring Lamb, which diners will score for taste and presentation. The winning restaurant gets $2500 and one of its diners will get a pack of lamb cuts.
At Logan Brown, Clouston is an enthusiastic supporter. It helps that he, too, is from Whanganui.
''I've been looking for a quality lamb supplier and it's great that I've found one in my home town.''
He says the memory of his first taste will stay with him.
''I took it home and put it on the barbecue. It smelled pretty good and then I took a bite. I thought, 'My gosh, I don't believe it. This is great, so tender and with a lovely flavour'.''
Redmayne expects Coastal Spring Lamb to become a Kiwi seasonal delicacy.
''We're not far off that. All we need is the word to get around.''
It's a great Kiwi story, says Fitness. ''We want to see Kiwis eating Kiwi lamb – why should the overseas markets get it all.''