The Listener, Oct 2016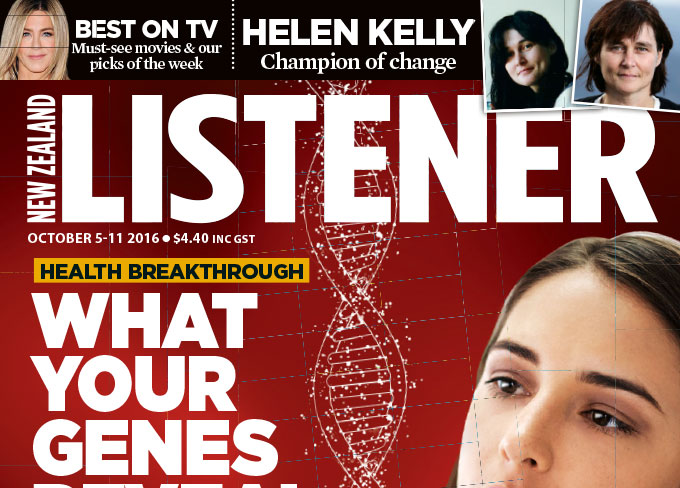 by Lauraine Jacobs
In the pink
Celebrate spring with a succulent roasted lamb cut.
It's a brisk walk from the farmhouse to the high ridge overlooking the O'Neills' Turakina property, about 20 minutes south of Whanganui. You can see the coastline and feel the prevailing westerly wind sweeping up from the Tasman Sea. When strong winds blow, which is most of the time, salty mist rises from the ocean, drenching the pastures and turning fencing wire rusty brown.
The conditions are ideal: the lambs that graze and are "finished" on the thick plantain and clover fields produce meat that's sweet and succulent. And like the famous Normandy pré-salé lamb (salt meadow lamb), this meat is also slightly saltier than that raised on farms further inland. At this time of the year, the first spring lambs are killed and the O'Neill family, with 10 other coastal family farms, market this much-admired meat under the banner of Coastal Spring Lamb. The concept and brand, originally proposed five years ago, have been led by the O'Neills' neighbours, Richard and Suze Redmayne.
A fine example of farming innovation, the brand has grown successfully, and last week its sweet, light-pink meat was recognised at the annual NZ Food Awards, winning the Chilled Foods Award and the Export Innovation Award before being named supreme winner.
Available from early November to mid-March, the meat is sold in New World and Pak'nSave supermarkets and exported to several countries.
Spring lamb is best served rare to medium, so whole legs and shoulder meat do not need the long, slow cooking required by older meat. Pink juices ensure the lamb is succulent, but as with all meat cooked in the rare to medium range, it's essential to rest it before carving and serving. One method – whether the lamb has been grilled, roasted or barbecued – is to remove the meat from the heat, then cover it lightly with foil and several thick tea towels. This retains the heat while allowing the juices to be reabsorbed.
The lamb rack, which won the award, is the simplest cut, and it's best cooked as a whole piece before being sliced into tiny chops once the meat has been removed from the heat. Backstraps are also excellent, but must not be overcooked.
A whole spring lamb leg will feed about 10 people. Shaun Clouston of Logan Brown brines the leg for at least 24 hours before cooking. His lamb, which was roasted then finished on the barbecue, produced the juiciest, most tender pink slices of meat I have enjoyed in years.
Here's his recipe for a brine for lamb. When you submerge meat in brine, some of the tasty salty liquid is absorbed, which results in more tender, juicy meat. I like to roast or grill lamb on a charcoal barbecue with a tight-fitting lid, as this adds an aromatic smoky flavour.
---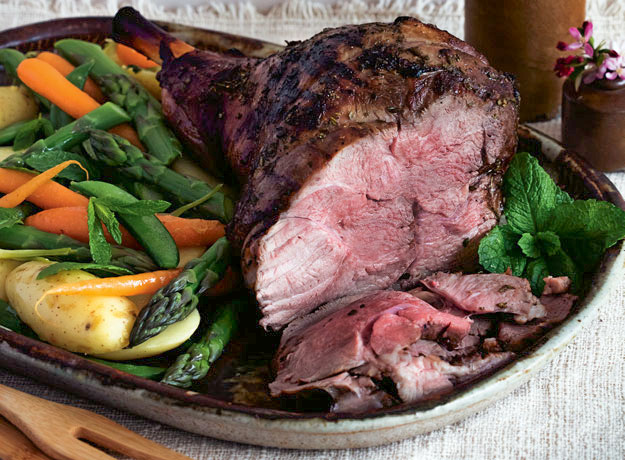 BRINED SPICED LEG OF SPRING LAMB BRINE
3 tbsp flaky sea salt
2 tbsp sugar
1/4 cup pomegranate molasses
1 tsp fennel seeds
1 tsp black peppercorns
1 tsp allspice berries
2 bay leaves
a head of garlic, halved crosswise
1.5 litres water
TO ROAST
1 leg of spring lamb
1 tsp flaky sea salt
1 tsp freshly ground black pepper
3 tbsp olive oil
1 tbsp fresh rosemary leaves, chopped
To make the brine, combine all the ingredients in a large saucepan. Bring to rolling boil, stirring to dissolve the salt and sugar. Remove from the heat and allow the brine to cool completely.
Place the leg of lamb in a large container and pour over the brine. Cover and refrigerate overnight or for up to 48 hours.
Preheat the oven to 180°C. Remove the lamb from the brine and rub with the salt, pepper, oil and rosemary leaves. Place on a rack in a roasting pan, then roast for about 45 minutes to an hour. Rest, wrapped in foil, for at least 15 minutes before carving into neat slices.
Serve with spring vegetables, such as baby carrots, baby potatoes, asparagus, sugar snaps and fresh garden leaves and mint.
Serves 10.
Wine match: new season's sauvignon blanc.