Bite Magazine, Oct 2016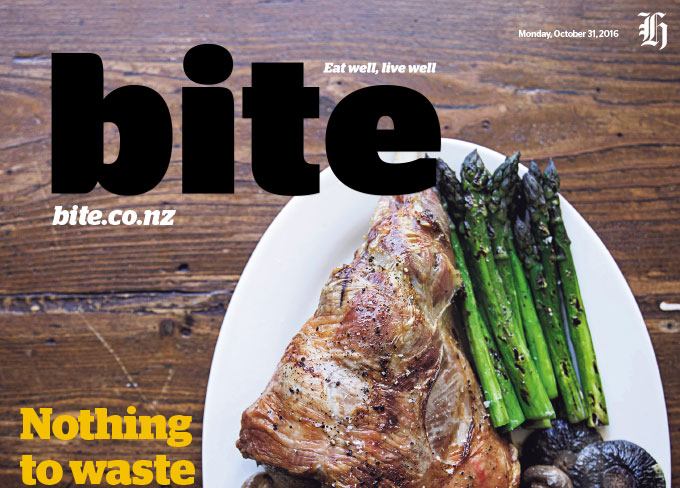 by Kathy Paterson
good farming stock
Take it from one who knows, a leg of lamb can go a long, long way
Jonathan Bloom, journalist and author writes in his book, American Wasteland, about the "return to thrift". He discusses a comment made by Katy, a Portland, Oregon resident, "use it up, wear it out, make it do, or do without". In Katy's life, this has meant less clutter and most importantly, less food waste.
My contribution to achieving less wasted food is to pass on the knowledge I gained growing up on a farm. How to use every bit of a roast leg of spring lamb. I have used Coastal Spring Lamb coming off farms from the North Island's west and east coast. Natural sea salt (driven by sea breezes), covering grazing pastures and clever crop planting to finish the lambs quickly, give these lambs their standout quality and flavour. Coastal Spring Lamb is the New Zealand Food Awards 2016 Supreme Winner and is available at selected New World supermarkets and meat retailers, or buy online coastalspringlamb.co.nz.
---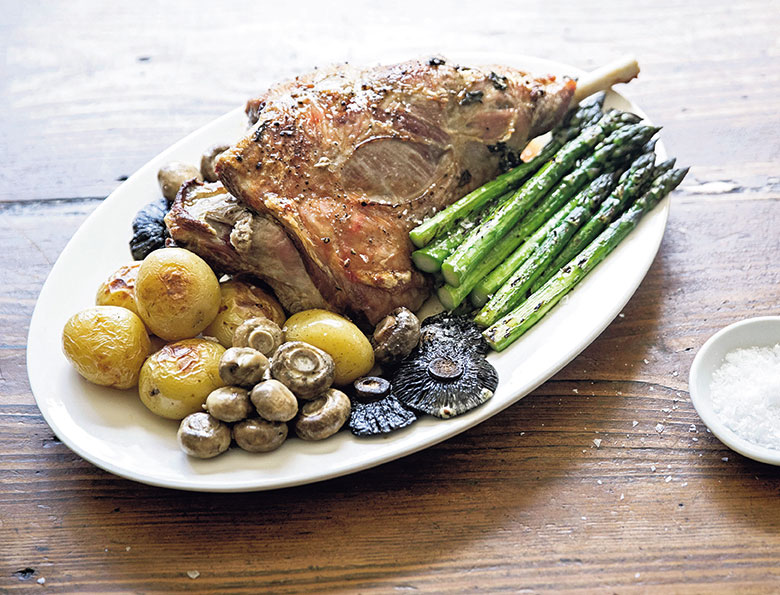 Roast Coastal Spring leg of lamb
Serves 6
2kg leg Coastal Spring Lamb, at room temperature
1 Tbsp olive oil 2-3 sprigs oregano
Heat the oven to 200C. Place the leg of lamb in a roasting dish. Drizzle with the oil and season with freshly ground black pepper. Scatter around the oregano sprigs.
Place in the oven and roast for 1 ½ hours. If you prefer lamb that is slightly pink, then reduce cooking time by 10-15 minutes.
Remove lamb from the oven, sprinkle with a little salt, cover with foil and a clean tea towel. Leave to rest in a warm place. You can cook the vegetables (opposite) once the lamb has been removed from the oven.
To serve, slice lamb across the grain into thick or thin slices and serve with the roast potatoes, mushrooms and their sauce and the grilled asparagus.
Roast potatoes
For even better roast potatoes, blanch in lightly salted boiling water for 5 minutes, drain and dry off over the heat before placing in the hot roasting dish.
Serves 6
18 small potatoes, skins scrubbed
25g butter
2 Tbsp olive oil
Heat the oven to 200C. Melt the butter and oil in a roasting dish, then drop in the potatoes. Shake the dish well to coat potatoes in the fat. Season with salt. Place in the oven and roast for 20-25 minutes until golden, crisp on the outside and tender inside.
Mushrooms in paper
Serves 6
500g mushrooms (mixed varietals are great here), wiped clean with damp kitchen paper if needed
2 Tbsp olive oil
½ cup cream
2 cloves garlic, very finely chopped
2 Tbsp chopped flat-leaf parsley leaves
Line a shallow baking tray with baking paper leaving enough overhang to make a parcel. Trim the mushroom stalks and place in the fridge to add to your lamb stock. Place the mushrooms on the paper-lined tray and drizzle over the oil and cream. Scatter over the garlic and parsley and season with salt and freshly ground black pepper. Fold over the excess baking paper and crimp edges closed as tight as you can. Place in the oven and cook for 20 minutes.
Asparagus
Serves 6
2 bunches fat, juicy asparagus
1-2 Tbsp olive oil
Heat a chargrill until hot. Untie the asparagus spears from their bundle and trim the tough stalk from the base only. Blanch asparagus in lightly salted boiling water, about 1 minute. Drain and pat dry with kitchen being careful not to snap the spears. Rub with olive oil and season with salt and freshly ground black pepper. Place on the hot grill and grill until dark grill lines appear and the spears are just tender. Use the point of a small sharp knife to test. Remove from the chargrill and place on a warmed platter with the roast potatoes and mushrooms.
---
Coastal Spring Lamb
The seasons still have their say when it comes to lamb meat and recently local farmers, supermarket people and food writers were invited to Annbank, Turakina, just outside Whanganui to celebrate the launch of the 2016 spring lamb season.
Annbank is one of the Coastal Spring Lambs farms which is a collaboration between farmers on the west and east coasts of the lower North Island that sees them working together to plan and talk about the lambs they will have and when they will be ready to slaughter. You only have to taste the meat to notice the contribution of the pasture. Lambs fatten quickly on the naturally salted pastures of ryegrass, clover and plantain.
Shaun Clouston from Logan Brown and Scott Kennedy from Nero Restaurant (both Beef and Lamb Ambassador Chefs), were on hand to demonstrate ideas for cooking this succulent, tender lamb.
Shaun "added value" to a Coastal Spring Lamb leg by brining the meat in a mixture of salt, sugar, pomegranate molasses, fennel seeds, peppercorns, allspice, bay leaves, garlic and water overnight or for up to 48 hours before cooking.
Scott treated us to a slow roasted Coastal Spring Lamb shoulder served with an inspired Rajasthani tomato, mustard and garlic chutney.
As I have come to expect from farmers, the hospitality was generous and warm and we had a wonderfully enjoyable day.