Bite Magazine, Jan 2015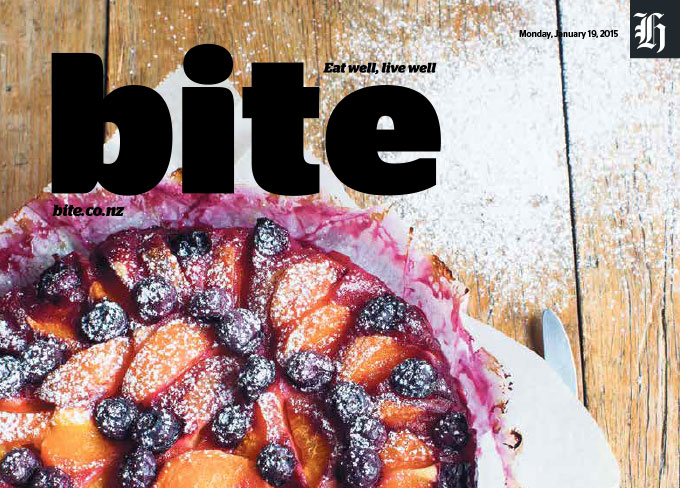 by Kathy Paterson
Best of Intentions
Make it part of the New Year routine to eat well by making the most of seasonal produce.
Shortloin of lamb with roasted eggplant and green bean, radish and cherry tomato salad
I came across the Coastal Spring Lamb brand when shopping in my local New World. They were having an in-store tasting and I simply had to try. The lamb was so delicious I bought some and immediately went home to make this recipe. Coastal Spring Lamb produce some of the first spring lambs born in the country each year. The season for this lamb is now coming to an end, but grab some now while it is still available and be the first in to buy some in spring 2015. Gourmet cuts are available to buy on their website, coastalspringlamb.co.nz
---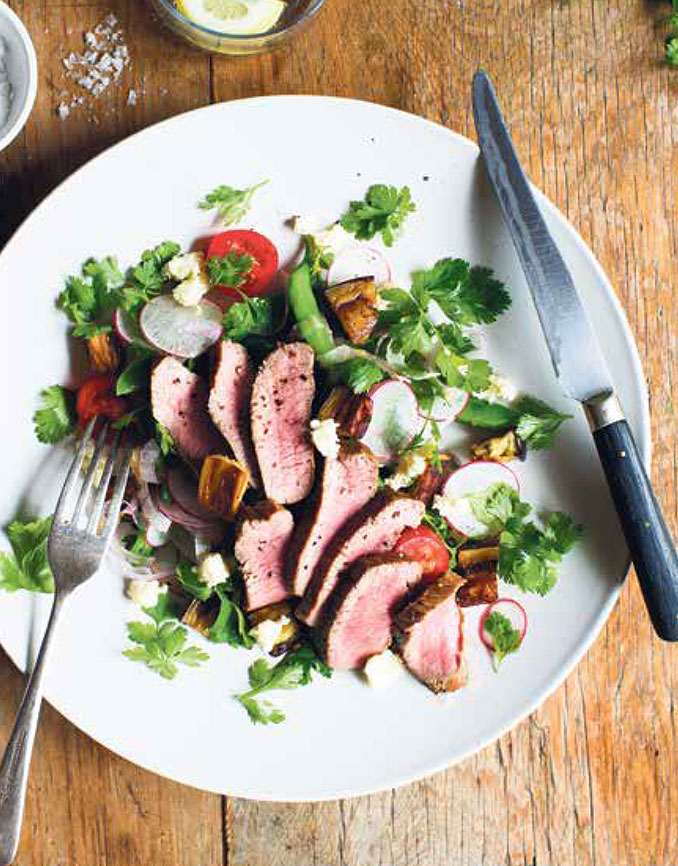 Serves 4

Green bean, radish and cherry tomato salad

350-400g green beans, trimmed

4 radishes, trimmed and thinly sliced

1/2 red onion, very thinly sliced

2 Tbsp fresh coriander leaves

2 Tbsp fresh Italian parsley leaves

1 Tbsp preserved lemon, very finely chopped

1 tsp ground cumin

250g cherry tomatoes, left whole or cut in half

Eggplant

1 large eggplant

2 Tbsp extra virgin olive oil

1 tsp fresh thyme leaves

200g ricotta

2-3 lamb shortloin (also referred to as lamb backstrap), I used Coastal Spring Lamb, at room temperature
Steam the green beans (or cooked in lightly salted boiling water), until bite-tender. Drain and flash under the cold tap to stop the cooking process. Lay out on to kitchen paper to drain.
Place all remaining salad ingredients in a large bowl, grind over some black pepper and toss gently to combine. Cover and set aside.
Heat the oven to 200C. Line a shallow roasting dish with baking paper.
Cut the eggplant into about 2cm cubes and place in the roasting dish. Drizzle with oil and toss well to coat eggplant. Sprinkle over the thyme leaves and a little salt. Place in the oven and roast until soft and beginning to crisp around the edges, about 25 minutes.
Meanwhile, heat a large frying pan (or use barbecue grill), over a medium heat. Rub a dash of oil over lamb and place in frying pan. Cook for 3 minutes then turn over and cook a further 2 minutes for medium-rare lamb. Transfer lamb to a plate, season with salt and freshly ground black pepper and cover loosely with foil and a clean tea towel and leave to rest for 5 minutes.
To serve, toss green beans through the salad and place on a large serving platter. Slice the lamb, across the grain for tenderness, and arrange on top. Crumble ricotta through the roasted eggplant and scatter on top. Optional to taste, drizzle over a little extra virgin olive oil and a couple of squeezes of lemon juice.