Coastal Lamb & Barley Soup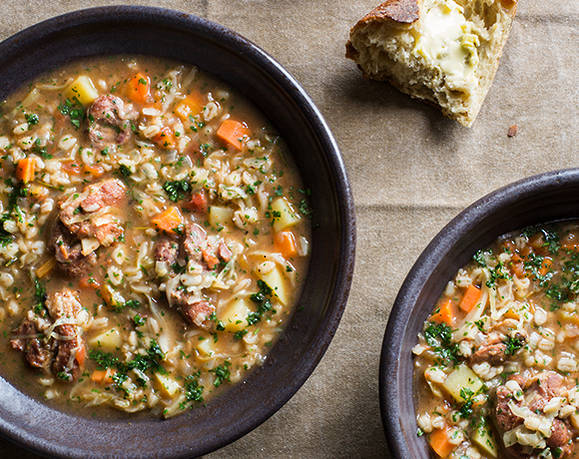 Packed full of veges and with tender lamb, this soup is convenient and versatile. Leave it to simmer on the stove top and enjoy, or freeze to bring out when you don't have time to cook.
Ingredients
Lamb
500g Coastal Lamb shoulder, diced
2 onions, finely chopped
2 cloves garlic, roughly chopped
1 litre beef stock
1 litre water (more if needed
during cooking)
400g can chopped tomatoes in juice
1 bay leaf, plus a sprig each of rosemary and thyme
3/4 cup pearl barley, rinsed
1 potato, peeled and diced
2 carrots, peeled and diced
1 handful finely shredded green cabbage
To serve
1 handful flat leaf parsley leaves, finely chopped
crusty bread
Method
Lamb
Heat a dash of oil in a large heavy-based saucepan over medium heat. In batches, add the lamb and brown on both sides. Transfer lamb to a plate. Lower the heat, add another dash of oil and the onions and cook until soft, about 5 minutes. Add the garlic and cook for a further 1 minute.
Pour in the stock, water and tomatoes. Return the lamb to the saucepan along with the herbs and pearl barley. Bring the soup up to the boil, season, then cover and reduce the heat. Simmer for 1 1/2 hours until the lamb is almost tender, stirring frequently.
Add the potato, carrots and cabbage and simmer for a further 30 minutes until the potatoes and carrots are tender. Remove the herbs and discard.
To serve
Serve soup hot, sprinkled with the chopped parsley and fresh crusty bread on the side.
See tips & tricks for slow cooker recipe.