Braised Coastal Lamb Shanks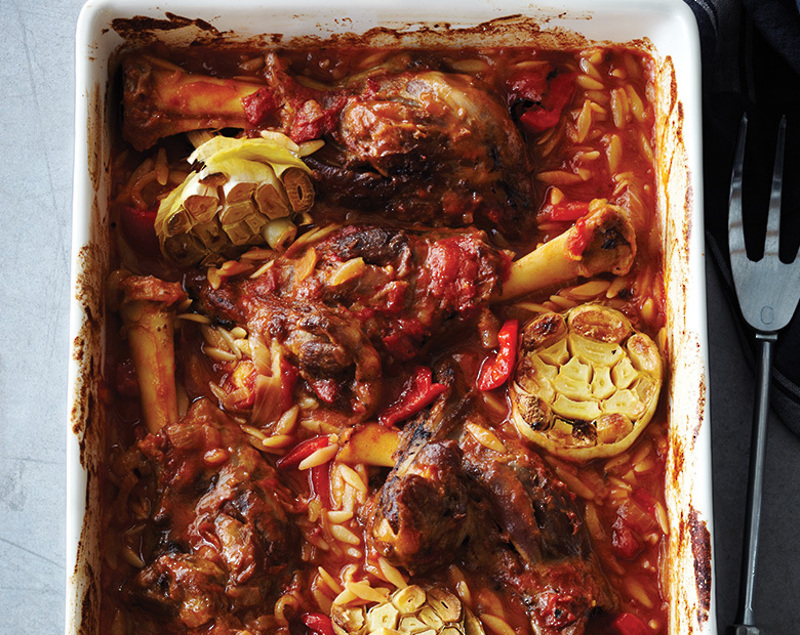 Tender, succulent lamb shanks that fall away at the bone, this recipe is ideal for cold winter evenings with a slow cooker option for added convenience.
Ingredients
Lamb
4 Coastal Lamb shanks
3 tablespoons seasoned flour
1 large onion, finely chopped
1 teaspoon cumin seeds
1 teaspoon ground coriander
1 red chilli, deseeded and finely chopped
Pared rind of 1 small lemon
1 cup Campbell's Real Stock – Vegetable
400g can chopped tomatoes in juice
1 cup diced bottled char-grilled capsicum (see tips)
3 tablespoons tomato paste
2 teaspoons Worcestershire sauce
Good pinch of brown sugar
2 bulbs garlic
1 cup orzo
Method
Preheat the oven to 160°C.
Lamb
Heat a dash of oil in a large heavy based frying pan over a medium-high heat. Dust lamb shanks with seasoned flour then brown all over. Transfer to a casserole dish. (If you have a casserole dish that can go from stovetop-to-oven, then use that).
Lower the heat and add the onion and cook until just soft, 5-7 minutes. Add spices, chilli and lemon rind and cook until aromatic, about 1 minute.
Add vegetable stock, tomatoes, capsicum, tomato paste, Worcestershire sauce and brown sugar. Bring to the boil, season and pour over the lamb shanks. The liquid should just cover the lamb shanks. Place on a tight fitting lid and place in the oven to cook for 2 hours. After an hour, slice garlic bulbs in half horizontally and place in a piece of foil. Drizzle with a little oil then wrap up tightly. Place in the oven beside the lamb shanks and roast until the cloves are very soft.
Remove lamb shanks from the oven and add the orzo. Return to the oven and cook for a further half hour. The orzo should be al dente and the meat almost falling off the bone.
To serve
Give each person a half of roasted garlic to squeeze over their lamb shanks.
Slow cooker option
Place all ingredients except orzo in slow cooker and cook on low for 8-9 hours (or high for 4 – 4 1/2 hours). Cook orzo seperately and add before serving.