Classic Kiwi Coastal Lamb & Three Veg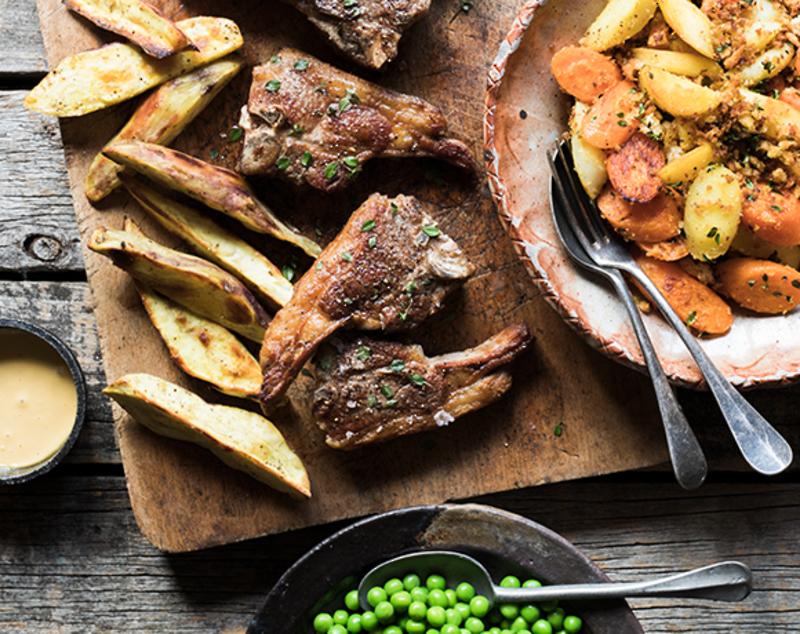 When cooked quickly lamb loin chops develop a delicious caramelised crust and have a pink juicy centre. Paired with buttery parsnips and carrots, chunky kumara and a side of peas, you have yourself a kiwi classic, dinnertime favourite.
Ingredients
Lamb
4-6 Coastal Lamb loin chops
a few thyme leaves for sprinkling
Buttery parsnips and carrots
2-3 parsnips, peeled and trimmed
2-3 carrots, peeled and trimmed
50g butter
½ cup homemade fresh white breadcrumbs
2 teaspoons roughly chopped thyme leaves
To serve
Method
Buttery parsnips and carrots
Cut the parsnips and carrots into even-sized pieces, cutting them on the diagonal. Place in a saucepan, cover with cold water and lightly salt. Bring up to the boil and cook until just tender. Drain and dry off over the heat. Melt the butter in a large frying pan, add the parsnips and carrots and cook for 5 minutes, tossing the pan to brown evenly. After 5 minutes add the breadcrumbs and cook until they begin to brown. Season and add the thyme.
Lamb
Heat a large frying pan over medium-high heat. Grind some freshly ground black pepper over the lamb chops. Place lamb chops in the pan, cooking the fat-side first to release fat and flavours. Cook lamb chops for 10-12 minutes, turning once. Remove from the pan to a board or warmed plate and season with salt.
To serve
Serve loin chops on the board with a scattering of thyme leaves. Place the buttery parsnips and carrots in a warmed serving bowl. Pass a bowl of cooked green garden peas. Chunky roasted kumara wedges and aioli are great here too. Everyone dig in.