Coastal Lamb Shank Broth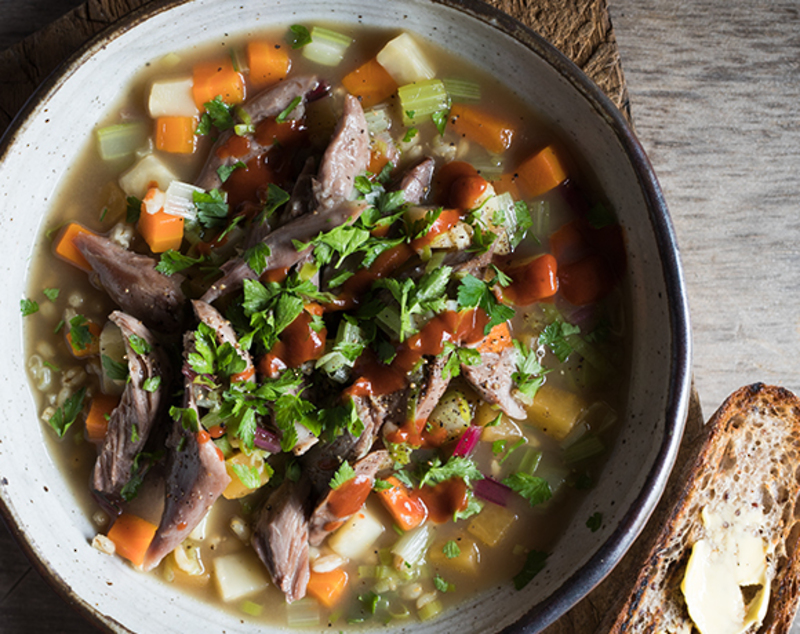 Who can resist a vegetable packed broth with tender lamb. The perfect way to warm up on a cold winter day. We like to make extra and leave in the freezer for a healthy go-to meal when time poor.
Ingredients
Lamb
2-3 Coastal Lamb shanks
2 litres vegetable stock or other light flavoured stock
1 bay leaf, sprig of thyme and rosemary
1 onion, diced
2 tablespoons pearl barley
1 large carrot, diced
1 small leek, white and light green parts only, well washed and finely sliced
1 small turnip, peeled and diced
½ small swede, peeled and diced
1 stick celery, strings removed with a vegetable peeler and finely sliced
1 tablespoon finely chopped flat leaf parsley
Sriracha sauce (optional)
Method
Lamb
Place the lamb shanks and herbs in a large saucepan. Pour in the vegetable stock, bring up to the boil then skim away any fat that is rising to the surface. Lower the heat and simmer, covered for 1 hour.
Skim away any further fat, then add the onion and pearl barley and continue simmering, covered for a further 1 hour.
Add the carrot, leek, turnip, swede and celery to the broth then taste and season. Continue to simmer for a further 30 minutes or until the vegetables are all just tender.
Remove the lamb shanks from the pan and place on a board. Pull away the meat and cut into smaller pieces (pieces that will sit easily on a soup spoon). Remove the herbs and discard.
Return the lamb to the pan, bring back up to the boil and finally check seasoning.
Serve lamb broth in 4 warmed soup bowls and sprinkle with chopped parsley. Drizzle with Sriracha sauce for a bit of heat.