Coastal Lamb Chops with Iceberg Lettuce & Avocado Dressing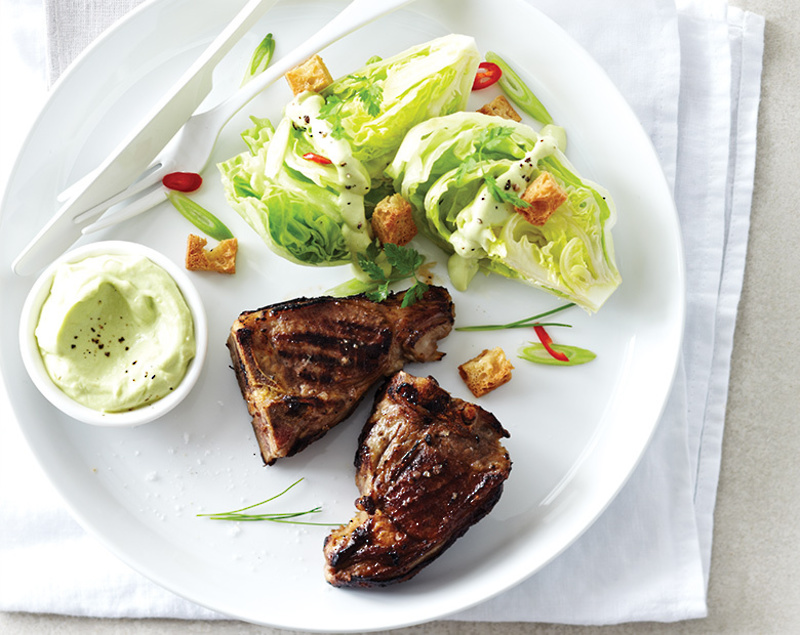 Ingredients
Lamb
8 Coastal Lamb loin chops, about 1.5 cm thick
½ onion, grated
1 clove garlic, crushed
zest and juice of 1 lemon
Dressing
1 avocado
2 tablespoons olive oil
2 tablespoons lemon juice
3 tablespoons crème fraiche
1 red chilli, deseeded and finely chopped, optional
Iceberg salad
2 slices day-old ciabatta bread, cut into cubes
1 small head iceberg lettuce, outer leaves removed
1 spring onion, finely chopped
small bunch chives
Method
Lamb
Place lamb chops in a shallow ceramic dish with grated onion, garlic, zest and juice of lemon and a dash of olive oil. Season and mix well to coat lamb chops in marinade, cover and leave for 20 minutes in a cool place.
Dressing
Place all ingredients in a food processor and process until smooth. Season and place in a small serving bowl, cover and refrigerate until ready to serve.
Salad
Heat a good splash of oil in a frying pan and toast the bread until golden. Sprinkle with a little salt and set aside. Cut the iceberg lettuce into even-sized wedges and place on a serving platter. Scatter over spring onion and snip over plenty of chives. Scatter croutons of bread over the top.
To serve
Heat a barbecue grill until hot. Place on lamb chops and grill for 3-4 minutes on each side for medium cooked lamb. Serve with iceberg lettuce wedges and the avocado dressing. A bowl of cooked new potatoes tossed in a little butter, salt and pepper is a perfect accompaniment.