Wanganui Chronicle, May 2017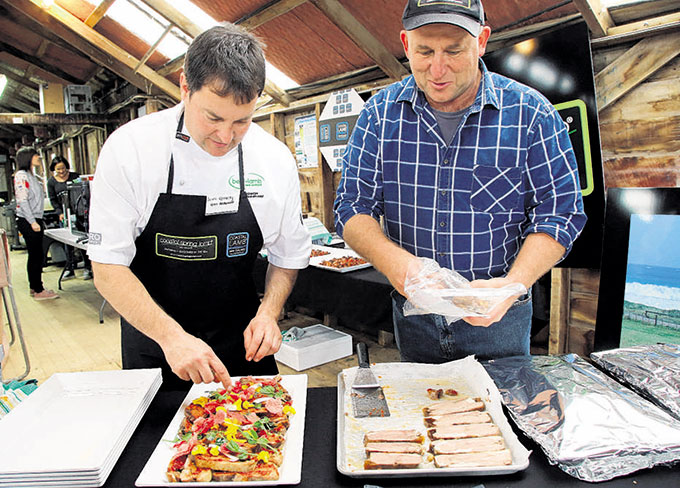 by Laurel Stowell
Humble banger with the trimmings
Sausages that include Rangitikei's own select brand of lamb and chunks of kumara are to be launched into the New Zealand market on Monday.
The Coastal Lamb Hotpot sausages are a collaboration between Turakina farmer Richard Redmayne's Coastal Lamb brand and smallgoods manufacturer Hellers.
It's taken six months to cement the collaboration and get the recipe just right and before the launch the farming families that grow the lambs sampled the sausages at a barbecue.
"They were sensational and we got a very good response from all the kids — they all went back for seconds," Mr Redmayne said.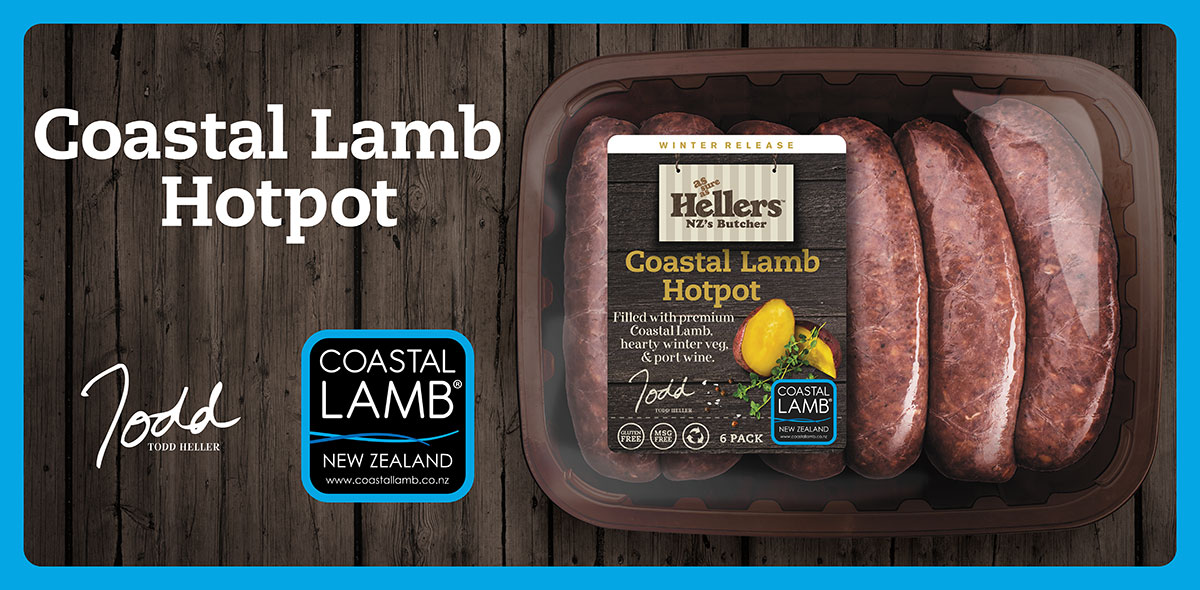 Coastal Lamb is now looking to collaborate with Hellers on other products — burgers and kofta are two possibilities.
Mr Redmayne was contacted by Hellers' business development director Jason Trewern after Coastal Spring Lamb won the top prize at the New Zealand Food Awards in October last year.
He found the values of the two businesses aligned well, and has visited the Hellers factories in Kaiapoi and Auckland.
Products developed by the two will wear the brands of both, and Hellers will pay a premium price for the lamb it uses.
Winning the supreme award has had other spin-offs. Sales of Coastal Spring Lamb in New Zealand supermarkets and restaurants increased 15 per cent last year.
The export side of the business, called Coastal Lamb, is "going from strength to strength" and has capacity to grow further. In March, Mr Redmayne made a trip to China, where he has distributors.
"We have got a great business developing there — they have already managed to get us into four Michelin-starred restaurants in Shanghai," he said.
He went on to an event based in the Ritz-Carlton Hotel in Hong Kong, where 650 executive chefs tried the Coastal Lamb product. There are about 15 farms that supply the lambs, and there is capacity for other farmers to take part. Mr Redmayne is getting phone calls from farmers who have 8000 to 10,000 lambs that would fit the Coastal Lamb criteria — farmers who are interested in having their product traced from the paddock to the customer.
With all this going on, he and his wife Suze, the owners of Coastal Lamb and Coastal Spring Lamb, have registered Coastal Lamb Ltd as a company. The company owns the intellectual property of the brand, though its farmers, processor and distributors will be able to buy shares in it. Mr Redmayne said the company formation was a careful, deliberate process.
"We want to make sure we still have the flexibility to make decisions quickly and effectively."
Jet-setting aside, he's still able to get around his coastal Turakina farm once a week, and said lambing will begin there on June 10.